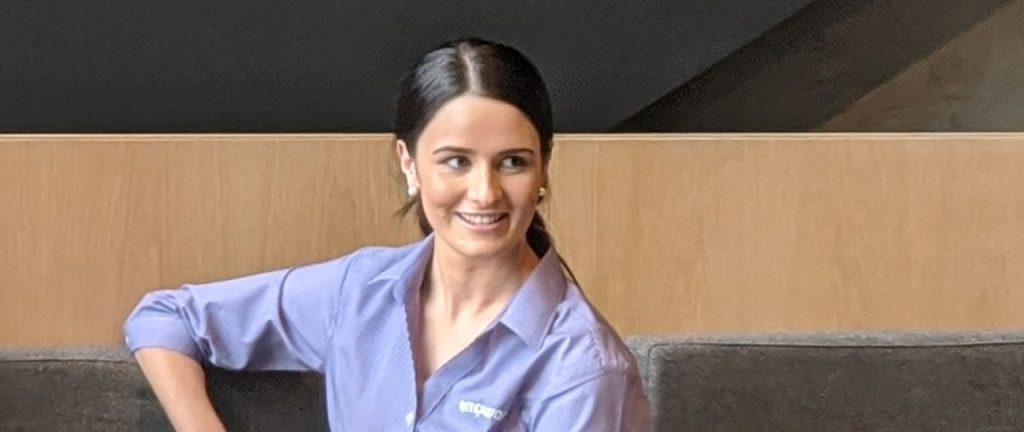 Sarah Tordeich's collective strength in clinical experience along with power of compassion and nurturance is making her a much-loved Regional Manager. Find out what makes Sarah tick and why she chose to take a leap into management.
Tell us a bit about yourself
I'm half Kiwi/Croatian. I made the decision to move to Australia two years ago and nearly six weeks after I decided, I was here! If you know me well, you'll realise this is very unlike me to be so drastic!
Time has absolutely flown by and I have a travel wish list that I want to tick-off within Australia. I really enjoy travelling and would love to return to Europe one day. I have a keen interest in running and hoping to complete my first full marathon this year! As expected, I love watching the kiwis play! I travel back and forth between Australia and NZ for quick trips to see fam and friends! I am social and love catching up with friends every other weekend, though I would consider myself a bit of a homebody too!
Why did you choose Empower?
Having spent the last 8 years, predominantly as a private practice clinician, I have been seeking a new challenge in my career that was an extension beyond practicing as a clinician. I wanted to be able to contribute to the bigger picture and be part of a company in a larger capacity; where I could utilise the skills and knowledge gained to help educate other fellow clinicians.
I never thought, but have learnt to realise, I wanted to be a leader. I stumbled across this job. The opportunity to become a Site Leader stood out for me. As soon as I met Matthew and Adam, I instantly felt at ease and their belief in my ability to grow into the role was the turning point. I also really gravitated towards Empower being a relatively new company; wanting to be a part of a growing company and contributing to its success, sealed the deal. The decision was further supported knowing the values and principles that Empower are founded upon were very much in line with my own.
What do you love most about your job?
I enjoy the variety of work in my role. I enjoy mentoring my team, from new clinicians right through to senior clinicians. As a leader, I collaborate and liaise with a range of Empower staff and clients with the primary focus on service solutions and continuity. Best of all, I continue to use my clinical skills.
I have always felt that my biggest learnings weren't necessarily at uni, but the knowledge I have gained both clinically and non-clinically when thrown into the big wide world. Having the right people in my corner has helped me to grow as a clinician and as a person. I love most that in my role; I can mirror my experience and provide the same level of support.
So, if you love autonomy and have a desire to give back, then becoming a Site Leader may be a career path worth exploring.
The opportunity to learn from clients is endless. The room for career progression and ongoing job satisfaction within Empower is evident. All these things combined are what I love most about this role.
What has been your most memorable moment?
The most rewarding moment I have had whilst working at Empower was when a consumer I was routinely seeing each morning, wished me Merry Christmas and a safe holiday at home in NZ and commented that her mornings were made better with me visiting each day and loved her regular chats whilst I treated her.
Thinking back on it later, it really made me smile knowing yet again, that whilst our role as clinicians is to assist with pain, function etc. we can also play a huge role in improving ones quality of life, purely through showing a genuine interest in them as people.
Memorable moments to me also include being trusted upon and knowing I am viewed as approachable by staff. Appreciating that all humans including my colleagues have busy lives, being empathetic and aware of this and showing support is hugely important. I work on an 'open door' policy and that they can come to me anytime with any question.
In what ways has Empower supported your growth personally & professionally?
Having a team of staff that believe in my capabilities and peer support from the other Regional Managers has enabled me to transition smoothly into the role.
They appreciate my learning and behavioural style and have been great at giving me feedback which has helped me learn a lot about my strengths, areas of weakness and what I would like to achieve in 2020.
I value the autonomy, flexibility and trust to become the regional manager I want to be.
In your new role, what will you be looking to achieve in 2020?
Working alongside my fellow Regional Managers and management team, we are streamlining processes to accommodate our recent rapid growth and future scalability.
Another focus will be on the new graduates and new staff; to learn about them, their work and personal goals, to help develop them clinically and to ensure they are satisfied and happy at work.
Being new to the role of Regional Manager, I am still learning the ropes, however as I become more adept I aim to have a significant role in contributing ideas, being a part of new processes and potential growth opportunities and establishing great working relationships within my region and the wider team.
What piece of advice would you give your new graduate self?
Appreciate all the hours you put in at uni learning, the people who helped make it happen, and immersing yourself in as many PD opportunities, courses and new graduate programs available to you, to really help develop your skills.
I truly believe my biggest learning developed over years of applying my clinical skills in a variety of settings and different people with different behavioural styles. Work ethic, initiative and empathy and a genuine rapport for others in addition to your clinical skills are a powerful combination and will help you succeed in anything you want to achieve!
Put the hours in while you are young and you can!! But also appreciate work life balance is crucial and enables us to be our best selves at work.
Sarah joined the Empower team as Regional Manager in Sep 2019.