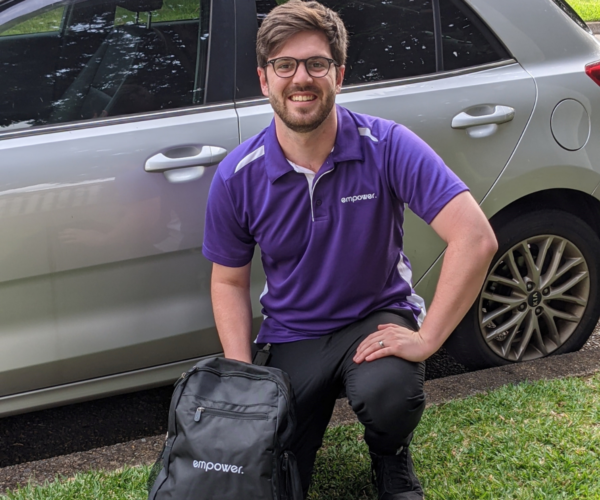 Ever wondered what a day in the life of a home care physiotherapist is like? We go behind the scenes with physiotherapist Patrick Jones, to explore what a typical day looks like for a home care physio and answer a few questions that you may have about becoming one.
Getting Ready:
My typical morning routine for the day is waking up at about 8am or 8:30am (a nice sleep in compared to my wife who has to leave at 7am for the hospital) and getting ready for the day. I officially start at 9am from home (if I don't have a patient at 9am) and check my schedule for the day while drinking a coffee at home. This includes confirming the client's names, conditions and address' I will be seeing as well as answering any emails or printing any paperwork such as HEP.
Going to work:
The joy of community physiotherapy is being able to start at home and the varied environments you travel to from rehabilitation centres, client's homes, nursing homes or independent living units. Empower ensures to provide clients where possible close to your surrounding area which means not too much driving but enough for a good podcast throughout the day!
Lunch:
During the day you get an allocated lunch break and since you are on the road you get to have a choice of amazing food options. Alternatively, you can also pack lunch and bring it on the road. I find it's nice either way to stop at a park or beach and enjoy the food which is one of the big perks of working in homecare. Occasionally when we have a meeting you may even be able to score a free lunch.
Treating Clients:
During my typical day I am expected to see six clients, a combination of new referrals and follow up clients. One of the best parts of community is the diversity of conditions and clients we get to see. In a typical day I could see an orthopaedic client recently discharged from rehab, a NDIS participant, a client with Parkinson's and an elderly client who is at risk of falls. This allows me to continue to grow and develop my skills in a number of physiotherapy clinical areas.
The aspect of home care I find the most rewarding is that we can focus on the client's goals in their own environment. Unlike hospitals where the aim is to get them to a safe mobility for discharge, in the community we get to help the client return to their most optimised self. This means that we collaborate and partner together to achieve agreed goals.
For example, Linda is a 65 year old female who has had 3 falls in the past which has caused her to be too afraid to leave her house. Her main goal was to be able to leave the house and walk to the local shops. By implementing short term goals with an exercise program focused on balance, lower limb strengthening and mobility, Linda was empowered to build back her confidence. Together we were then able to practice her outdoor walking and preferred route to the shops. Linda is now feeling more self-assured about her walking and with ongoing practice and progress, believes she will be able to soon walk independently.
Team Environment:
Every fortnight the national physiotherapy team meet online. This is a great chance to receive ongoing professional development, bounce ideas off one another as well as meet the rest of the team and participate in fun social activities. As the Sydney team we also meet once a fortnight for coffee and case discussion. This allows us, as a smaller team to debrief on any complex cases over a coffee. Part of your training also includes a trip to the Melbourne head office, if you time it well you might be able to catch a game, Go Giants!
Empower Healthcare's Graduate Program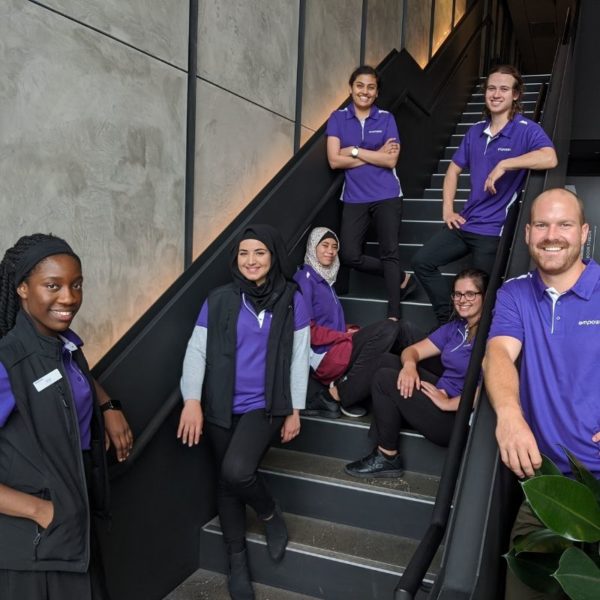 We now offer year-round graduate intakes.
As the demand for allied health contribution to our overburdened Australian health system grows exponentially, we are strengthening our capacity nationally to help deliver better health outcomes for Australians and continually looking for new grads to join our team.
Empower Healthcare provides a comprehensive graduate training program across physiotherapy, occupational therapy, osteopathy and podiatry.
If you're a physio that is seeking to strive and thrive then visit our Graduate careers page and apply today!
Learn more about our Graduate Program