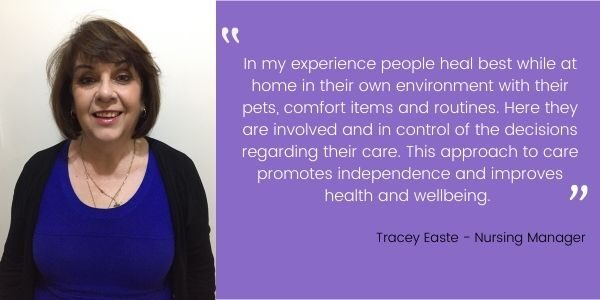 We welcome Tracey Easte to the Empower family as our Nursing Manager. Tracey brings a wealth of experience to the role, enabling her to contribute to Empower Healthcare's continued expansion of our nursing services across Australia.
As Nursing Manager, Tracey will be leading the nursing team in delivering on Empower Healthcare's mission to change lives with innovative health services by ensuring efficient execution of day-to-day nursing service delivery, combined with a robust focus on continuous improvement.
Tracey has an extensive professional background in both hospital and community nursing, having started her career at Epworth and Royal Women's Hospitals in Melbourne before moving on to Calvary Community Care, Royal Freemasons and Aveo, achieving a Grad Dip of Management along the way. It was during her time at the Royal District Nursing Service that Tracey discovered her passion for community nursing. Aside from the high caliber of professional and managerial experience Tracey brings to Empower Healthcare, she also brings a relational nature, curiosity and a track record of success.
Tracey shares "In my experience people heal best while at home when supported appropriately. In their own environment with their pets, comfort items and routines they are involved and in control of the decisions regarding their care.  This approach to care promotes independence and improves their health and wellbeing. I believe that people should be supported as much as possible to remain in their homes to gain the best health outcomes"
On a personal note, when not at work Tracey loves catching up with family and friends as well as exercising, cooking and baking. She likes to learn new things and so you'll often find her watching cooking shows to get ideas.
About Empower Healthcare
We Change Lives
Changing lives is what we do.
Delivering high quality allied health services is how we do it.
Empower Healthcare was founded in 2016 by two people who were determined to improve the standards of allied health services in residential aged care and knew how to do it. With industry knowledge and an innovative approach, Adam and Matthew set about defining what allied health services can be when quality and person-centred care is placed before all else in healthcare.
The partnership, that merged clinical expertise with business acumen, soon established Empower Healthcare as a leading provider of quality physiotherapy services in residential aged care facilities in Victoria. This success fueled the expansion of our services within residential aged care, home care and NDIS to deliver occupational therapy, physiotherapy, nursing, podiatry, dietetics, osteopathy, massage and speech pathology.
Now offering comprehensive allied health services with more than 180 dedicated and passionate clinicians working in Victoria, Western Australia, New South Wales and Queensland, Empower Healthcare is growing and taking our unique approach with us.
A lot has changed over the years but not our commitment to the highest quality care, delivered by expert clinicians, aimed at improving the independence and quality of life of our clients- helping our clients live their lives the way they want to.
How To Get Clients Started With Our Home Care & NDIS Services
Simply click on the image below for our referral form.