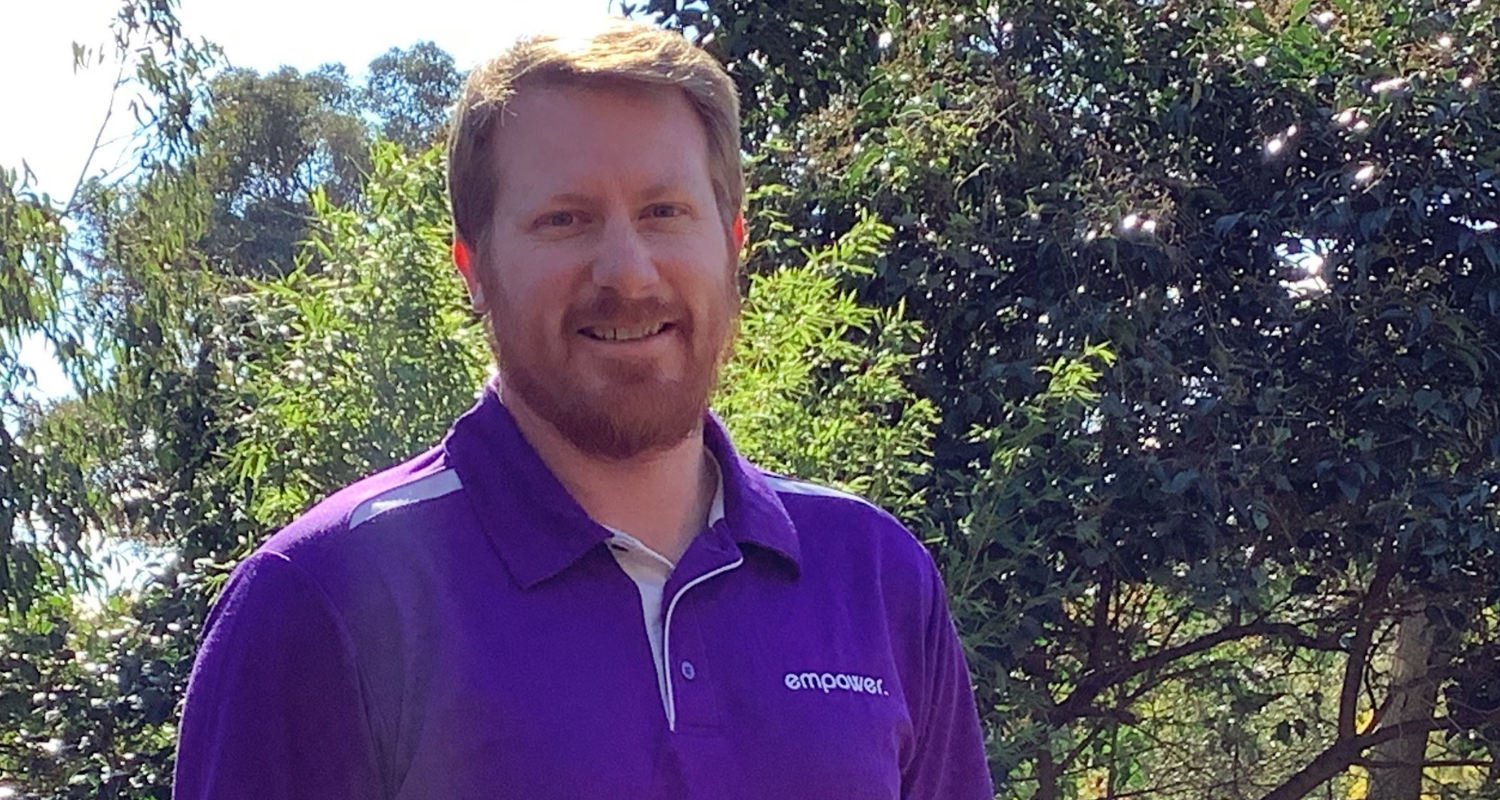 Empower Healthcare has a team of Allied Health Assistants (AHA's) that work under the direction of Physiotherapists to deliver holistic care.
This diverse role can range from delivering tailored treatment plans to providing education to clients and families. Far from dull, the role of an AHA is another service approach available to freeing up funds for improved access to extended therapy, equipment and medical needs.
Nathan shares his experience as an Allied Health Assistant
Being an Allied Health Assistant (AHA) at Empower allows me to use my experience to make a connection with people and their community whilst offering the support and guidance they need to achieve their goals. Since completing my Certificate IV in Allied Health Assistance, I have gained experience in aged care, community health, and in-home care.
I have been involved in many community health programs including hydrotherapy, chronic pain management, and balance and strengthening exercise programs, working alongside several different health professionals most notably Physiotherapists, Exercise Physiologists, Occupational Therapists and Psychologists.
Working as an AHA in the community allows me to see and share in the clients benefits and achievements which is inspiring. Working closely with people from all walks of life and being a part of their story is a special feeling. I am very fortunate to be able to help empower others and have a positive impact on their wellbeing.
Outside of work I love spending time with my family which includes my wife, my two energetic, competitive and rapidly growing boys, and our much loved (spoilt) border collie Tilly. I try to stay fit and active and enjoy jogging, riding, and walking. I also love getting to work in the garden especially growing veggies and chilies. In my down time I love to read (usually historical fiction), and enjoy watching most sports including AFL, basketball and soccer, and I am a tragic fan of the Tour de France.
READ TO MORE INFORMATION ABOUT ALLIED HEALTH ASSISTANTS
About Empower Healthcare
We Change Lives
Changing lives is what we do.
Delivering high quality allied health services is how we do it.
Empower Healthcare was founded in 2016 by two people who were determined to improve the standards of allied health services in residential aged care and knew how to do it. With industry knowledge and an innovative approach, Adam and Matthew set about defining what allied health services can be when quality and person-centred care is placed before all else in healthcare.
The partnership, that merged clinical expertise with business acumen, soon established Empower Healthcare as a leading provider of quality physiotherapy services in residential aged care facilities in Victoria. This success fueled the expansion of our services within residential aged care, home care and NDIS to deliver occupational therapy, physiotherapy, nursing, podiatry, dietetics, osteopathy, massage and speech pathology.
Now offering comprehensive allied health services with more than 180 dedicated and passionate clinicians working in Victoria, Western Australia, New South Wales and Queensland, Empower Healthcare is growing and taking our unique approach with us.
A lot has changed over the years but not our commitment to the highest quality care, delivered by expert clinicians, aimed at improving the independence and quality of life of our clients- helping our clients live their lives the way they want to.
How To Get Clients Started With Our Home Care & NDIS Services
Simply click on the image below for our referral form.