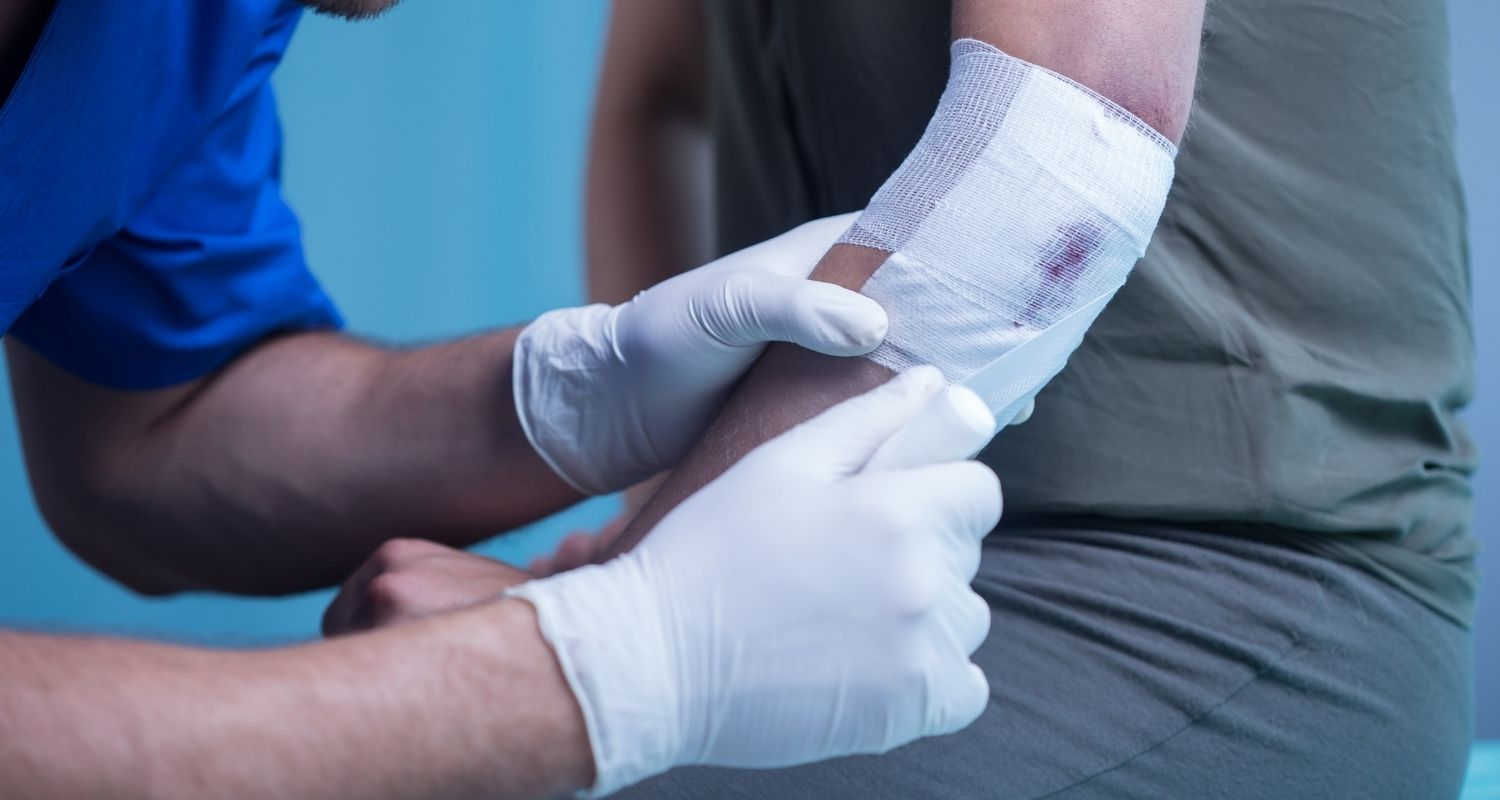 A Team Approach to Wound Care
On any given day, half a million Australians are living with a poorly healing or chronic wound. These wounds can be very difficult to live with and manage as they are often in hard-to-reach areas of the body and can impair mobility and independence. Examples of chronic wounds include leg ulcers, diabetic foot ulcers and pressure injuries.
Research has shown that a multidisciplinary approach is the gold standard in preventing and managing wounds and the pain, disability and loss of independence that they can cause. Each clinician brings skills and expertise, with the shared goal of maintaining and improving quality of life.
Nurses
Assess for risk factors that can lead to chronic wounds.
Assist in the management of underlying health conditions that can cause hard-to-heal wounds.
Assess wounds to determine the best treatment approach.
Treat- including cleaning, applying pharmaceuticals and dressing wounds.
Refer for additional care when required.
Podiatrists
Perform wound assessments on the foot, ankle and leg at every visit.
Are the cornerstone of diabetic foot care.
Ensure correct footwear to reduce pressure injury and falls related wounds.
Dietitians
Understand that good, balanced nutrition is the first step in preventing chronic wound formation.
Assess for the nutritional causes of chronic wounds, including poorly managed blood glucose and malnutrition.
Create meal plans that ensure adequate nutritional intake to prevent wounds and aid healing.
Physiotherapists
Assess for risk factors that can lead to chronic wounds.
Intervene with rehabilitation programs to reduce risks of falls, loss of mobility and poor circulation.
Assist with pressure care by implementing pressure relieving strategies.
Occupational Therapists
Perform assessments of clients and their environments for wound risk factors.
Reduce the risk of wounds by assisting with adapting homes to be safer and easier to move around in.
Recommend pressure preventing and relieving equipment and accessories.
Provide therapy that assists clients function safely and independently in their homes and communities.
By determining the unique needs of each client, an individualised treatment program can be developed that includes the health care team members best suited to providing the most effective treatment for the management of chronic wounds- promoting healing, health and vitality.
Here's 4 reasons why you should place wound care at the heart of client care.

References
http://www.aushsi.org.au/wp-content/uploads/2018/01/Chronic-Wounds-Issues-Paper-20-Oct-2017.pdf
https://www.qut.edu.au/institute-of-health-and-biomedical-innovation/about/news/news?id=145230
About Empower Healthcare
We Change Lives
Changing lives is what we do.
Delivering high quality allied health services is how we do it.
Empower Healthcare was founded in 2016 by two people who were determined to improve the standards of allied health services in residential aged care and knew how to do it. With industry knowledge and an innovative approach, Adam and Matthew set about defining what allied health services can be when quality and person-centred care is placed before all else in healthcare.
The partnership, that merged clinical expertise with business acumen, soon established Empower Healthcare as a leading provider of quality physiotherapy services in residential aged care facilities in Victoria. This success fueled the expansion of our services within residential aged care, home care and NDIS to deliver occupational therapy, physiotherapy, nursing, podiatry, dietetics, osteopathy, massage and speech pathology.
Now offering comprehensive allied health services with more than 180 dedicated and passionate clinicians working in Victoria, Western Australia, New South Wales and Queensland, Empower Healthcare is growing and taking our unique approach with us.
A lot has changed over the years but not our commitment to the highest quality care, delivered by expert clinicians, aimed at improving the independence and quality of life of our clients- helping our clients live their lives the way they want to.
How To Get Clients Started With Our Home Care & NDIS Services
Simply click on the image below for our referral form.