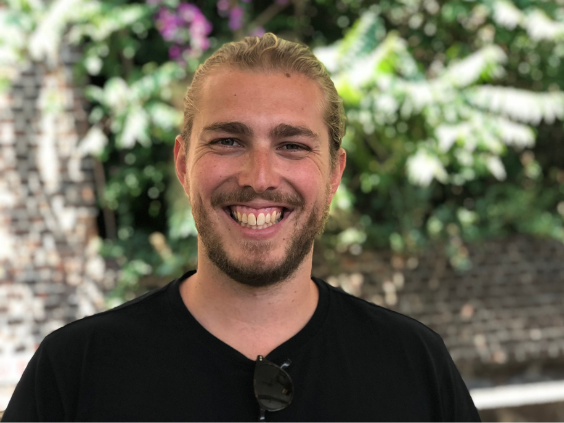 Name: Kendall Sutton
Position: Physiotherapist, Site Leader
When did you join Empower? February 2019
Why did you choose Empower?
I was at the APA Job Show and, to be honest, was drawn to the guys at Empower for the Keep Cup and show bag they had on offer! I ended up having a long chat with Matthew, the COO and shared a joke or two with him over the course of the night.
I left the APA Job Show really impressed with the supportive and family orientated feel I got from Empower. I hadn't considered aged care to this point, but something told me that this opportunity could be too good to pass on.
What do you love most about your job?
There's not one thing that I could isolate. My clients are so grateful for even the smallest of things I do or recommend. I have picked up some awesome dad jokes and been given delicious family recipes from the grandmas – I love building a genuine connection with my clients.
From a career point of view, I get a heap of support from my managers. There's a lot of room to grow in the company, and since starting in February I've also taken on clients in home care, which has exposed me to a bigger variety of conditions.
What has been your most memorable moment?
After working at a different facility for a week or two, I returned to one where I've spent the majority of this year – I walked in to see one of my clients, a cute little Italian 'nonna', and when she saw me, she praised Jesus for bringing me back to see her. I always have a good laugh with my clients – it brings a lot of joy to their days – and I know I help them immensely from a Physio point of view as well.
Another that comes to mind was a patient who had not been able to use their arm or care for themselves after a nasty fall prior to us meeting. Instead of continuing the current treatment course, I suggested a different approach that has been successful enough for him to take back some independence where he can now dress himself and comb his hair.
In what ways has Empower supported your growth personally & professionally?
To put it simply, it's the management team's support of both my natural abilities and the skills I'm learning on the job.
There are multiple aspects to how Empower and my managers helped me to become the Physio I am today. There is a whole matrix of supports to help. One key element is the grad program, which is a structured way to keep me learning. It is both theoretical and practical with an array of experienced practitioners to walk you through different topics. Secondly, from the very get-go you get allocated an experienced mentor in which you can ask questions and observe. No matter how busy my mentor was, they always made sure to address my concerns – this was a pleasant change coming from the busy hospitals I'd experienced during Uni placements.
With their support, I have been fortunate enough to progress this year to the role of Site Leader where I oversee the Empower team's allied health services at the facility I'm based out of, as well as working with clients personally.
How do your supervisors help you learn on-the-job?
Empower's culture stands out to me – it feels like a family run business. This is highlighted in their staff. My supervisors were quick to pick up on my learning style – I was eager to get in there and have a go, but always wanted to debrief. I'm a talker, and I needed a sounding board which my supervisors provided me with.
During these discussions, I was asked questions, but importantly, I was asked what my recommendation and thoughts were as well – I wasn't just being told what-was-what, I was treated as a colleague. There were observations, both ways. I observed them treating clients and they observed me treating clients – not with a marking paper in hand mind you! And so, this process continued; discussions, observation, treatments and ultimately professional growth.
Can you reveal important factors that help a graduate transition into a Site Leader?
On the surface, I feel like becoming the Site Leader was right-place-right-time. In reality, I've never been that lucky. I have a pretty big personality, and my sporting career has taken me far and wide where I had the opportunity to represent Australia. I guess when the word leadership is thrown around, I automatically think team captain – and that was me.
Qualities and positive character traits that I believe have led to my career advancement include; a strong work ethic, inquisitive, approachable, creative, enthusiastic, perceptive, compassionate, dependable and personable.
I work hard, I help others where I can, and I always make time for my team when they need me. I put my hand up to help out on weekends when needed (time and a-half is a bonus!). I was able to put my own spin on treatments and suggest new processes to help make our clinicians more efficient whilst working – something as simple as make referrals digital saves time walking around. I love talking, but I am also a good listener. Naturally, this combination goes hand-in-hand with building rapport and friendships with my Empower team, with staff at the location I'm working, and importantly with my clients.
What piece of advice would you give your new graduate self?
Save your pennies and be kind to your mother – warned you about the dad Jokes.
On a more serious note, consider joining an organisation that offers a grad program; it's a nice transition into your working life. It helps get your brain ticking again after finishing studying. The detail of the grad program is where it really helps, from creating goals (SMART goals), to identifying weakness and interests. Working on those last two points were paramount for me.
The grad program isn't forced upon you. For example, the booklet has pages for reflection that you can write in and go over with your mentor…or you can just talk to them like I did.
There are periodic catch ups, practical sessions, and company-wide PD's scheduled, but really the graduate program helped me grow at the pace I wanted to.
Tell us a bit about yourself. Out of the workplace, what are your interests and hobbies?
I love AFL – GO TIGES! I'm also into basketball and going for a surf. I enjoy beer, whiskey, and am currently in the process of making my own Shiraz in Heathcote. I guess I like to try and keep fit as well. Quality time with family and friends is super important to me as well.
Empower's Graduate Program
Our professional and comprehensive graduate program can set the foundations for a bright career!
Get the support you need to transition into life as a first-year clinician and extend the skills you worked hard to develop at university.
We have created a comprehensive 12 month program that provides you with the tools and training to grow as a professional through:
structured learning
mentoring
peer support and
e-courses.
See our Graduate Success Map below for our yearly graduate program.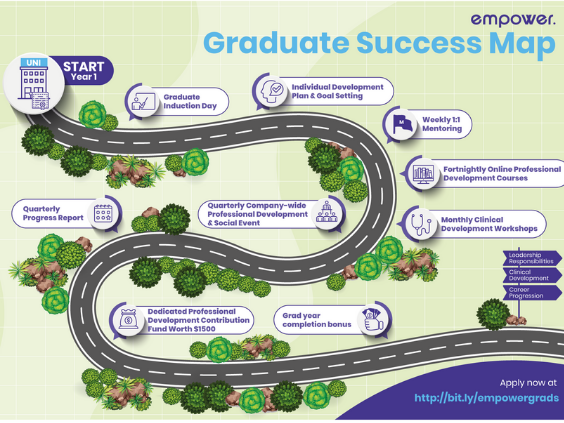 At Empower, we value our staff and make everyone feel welcomed, accepted, and appreciated. Inclusivity and belonging are a part of our core values at Empower and with our graduate program, you'll get to train with the best.
If you're looking to get your physio career kicked off to a great start, make sure you apply with Empower.
Make sure you don't miss out!
We have 10 graduate program positions available for 2020.
Applications close 10 December 2019.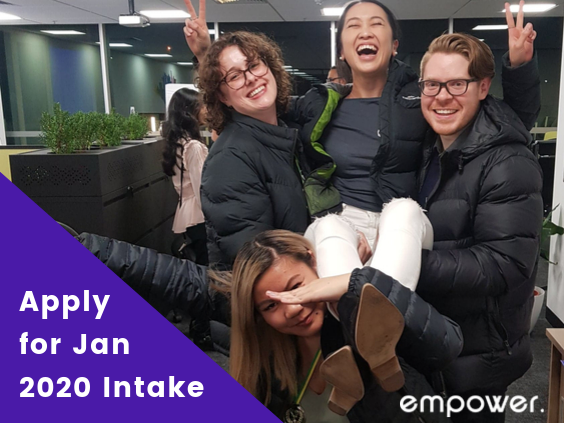 Need more info?
Call Lilian our Recruitment Manager for a copy of our our Graduate Program flyer on 0412 709 161
Another blog you may find of interest…
How a Graduate Program Benefits You
Choosing your first workplace to kick-start your career can be a little daunting and yet so exciting at the same time. An organisation that provides a graduate program can offer you rewarding opportunities and benefits. Graduate programs can provide you with support, training and a structured plan to help you transition from a graduate into a promising clinician.