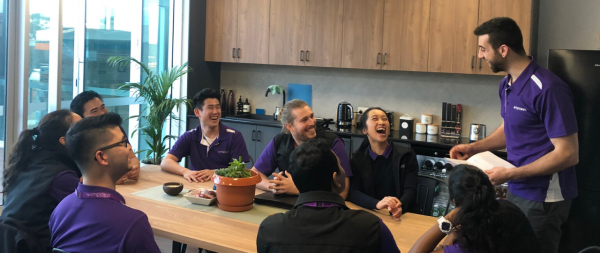 The leadership team at Empower have worked very hard to create a continuous professional development structure beyond he graduate program that is centred around communication and innovation to shape employees into becoming highly effective and perceptive individuals that can lead rational, proactive collaboration.
To ensure that the skills learnt are put into practice our workplace includes different learning & development delivery methods to provide a flexible, accessible and interactive platform to motivate and reward employees for completing personal learning resources. These include:
Online courses.
Quarterly company-wide events.
Clinical development workshops.
Individual professional development modules.
Individual growth plans.
Team & Regional leadership succession plans
At Empower, ongoing professional development is seen as a vital investment in keeping employee skills relevant, especially as the health care industry is rapidly evolving.
All employees benefit from tailored professional training and development programs, designed to prepare them for greater responsibility.
Within Empower, there is a clearly defined career path with associated skills criteria. With your mentor and supervisor, individual growth plans are created and evolve over time to adjust to each employee's desired development path, promotions and career goals.
Empower Healthcare's Career Advancement Progression Diagram that illustrates the transition from graduates to clinician, site leader, team leader, regional manger and finally state manager.
Empower's clinician career progression line.
Throughout the year, regular meetings are held to review individual development objectives along with practical assessment results, learning & development metric outcomes and peer reviews. This process sets up our team to accomplish their career growth goals.
Research has proven time and again that there is a positive relationship between career development and employee job satisfaction. Our employees tell us that our commitment to developing individual growth plans and career development activities, which contribute to career success, greatly improves employee satisfaction.
When you're considering which organisation to apply to, think about whether that organisation offers you the environment to gain practical knowledge, industry insights, career succession planning and hands-on guidance to becoming a valuable and versatile employee.
Empower's Graduate Program
Our professional and comprehensive graduate program can set the foundations for a bright career!
Get the support you need to transition into life as a first-year clinician and extend the skills you worked hard to develop at university.
We have created a comprehensive 12 month program that provides you with the tools and training to grow as a professional through:
structured learning
mentoring
peer support and
e-courses.
See our Graduate Success Map below for our yearly graduate program.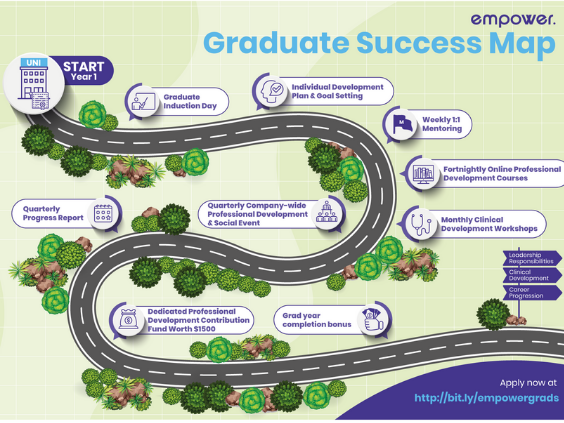 At Empower, we value our staff and make everyone feel welcomed, accepted, and appreciated. Inclusivity and belonging are a part of our core values at Empower and with our graduate program, you'll get to train with the best.
If you're looking to get your physio career kicked off to a great start, make sure you apply with Empower.
Make sure you don't miss out!
We have 10 graduate program positions available for 2020.
Applications close 10 December 2019.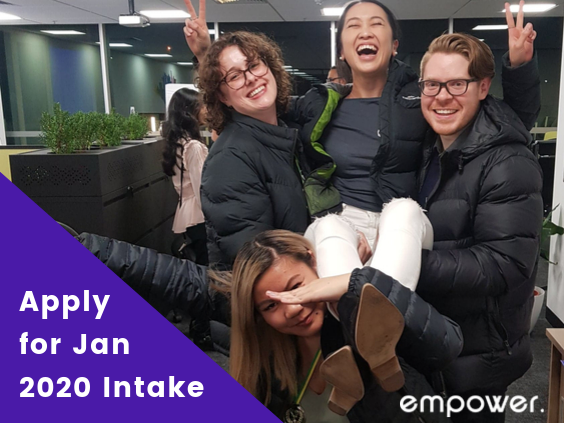 Need more info?
Call Lilian our Recruitment Manager for a copy of our our Graduate Program flyer on 0412 709 161
Interested in joining the Empower family?