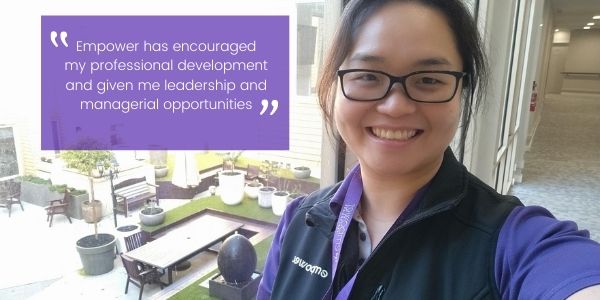 Empower has amazing occupational therapists and Amanda Chan reflects on her career progression and journey at Empower.
When I joined Empower Healthcare four years ago as a newly graduated Occupational Therapist, I was looking for positions close to home and support to develop as a clinician. Today, I am a Team Leader supporting other clinicians to grow and thrive, just like I did.
Empower has encouraged my professional development and given me leadership and managerial opportunities, while supporting me to return to work after maternity leave, twice!
I love being able to balance work and home life with
Flexible, family friendly work hours.
Leadership opportunities and career progression.
Varied opportunities within Home Care, NDIS and Residential Aged Care.
The ability to work from home when possible.
Internal and External professional development in my areas of interest.
I love the clients and residents I work with and being part of the team that makes the environments I work in healthy and happy for everyone.
What is Occupational Therapy?
Working as an Occupational Therapist, I often get this question, "What is occupational therapy?".  The World Federation of Occupational Therapy defines Occupational Therapy as below.
"Occupational Therapy is a client-centered health profession concerned with promoting health and wellbeing through occupation… to enable people to participate in activities of daily life… by working with people and communities to enhance their ability to engage in the occupations they want to, need to, or are expected to do, or by modifying the occupation or the environment to better support their occupational engagement." WFOT, 2012.
While many other people in the health industry are involved in the diagnosis of diseases, the occupational therapist's role is about collaboratively setting and achieving meaningful goals.
Amanda explains, "Whether it be helping a person with selecting a chair that can help them stand because they have difficulty standing from their couch or introducing a person to a bath lifter to help them enjoy a bath again, I always feel a sense of satisfaction when seeing the joy on people's faces as they successfully engage in these simple yet meaningful activities again.
About Empower
We Change Lives
At Empower Healthcare, we deliver life changing allied health services. Our whole team is dedicated to building and delivering exceptional services for clients, loved ones, referrers and partner organisations.
Our therapists genuinely care about the people we work with and take the time to build strong relationships that holistically improve social, physical and mental well-being.
We are a successful privately owned and operated organisation that continues to experience significant growth, driven by our fantastic services and family of professionals.

Empower healthcare is changing lives – yours could be next.
Join us to open the door to what is possible.
At Empower Healthcare we believe that our strength lies in our people. By building strong teams and supporting the professional development of our clinicians, we have established ourselves as a national Allied Health provider that raises the standards of clinical practice in Home Care, NDIS and residential aged care.
Every day we deliver high quality, innovative allied health solutions across Australia. We have opportunities for clinicians looking to develop at all career stages, from newly graduated to well established therapists wanting to lead in:
Occupational Therapy
Physiotherapy
Nursing
Podiatry
Dietetics
Osteopathy
Massage Therapy
Fastrack Your Career
Discover the possibilities with mentoring, career planning, on-line and in-person learning modules, extensive New Graduate program and external professional development. We look within for promotion to leadership roles and develop our own people to grow our business.
Work, Your Way
Create true balance with work hours that work for you, flexible leave arrangements and low stress environments.
Be Valued
We offer competitive salary packages that grow as you do and acknowledge your unique strengths and contributions.
Join the Team
Experience the satisfaction that comes from being a part of multidisciplinary teams, focused on delivering the best outcomes for the people we care for, while learning from each other.
If you're interested to see how we can help open the door for your next career move, click on the link to learn more.
View current job opportunities