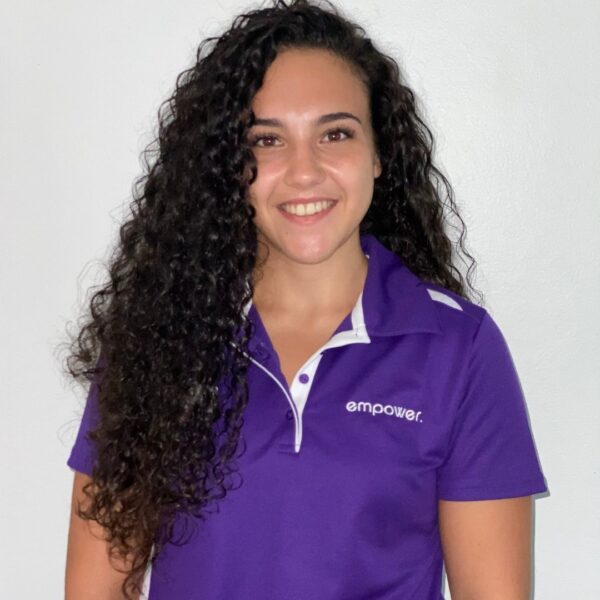 We welcome Cristina Speranza to the Empower family. Cristina is our newest graduate physiotherapist in NSW.
Tell us a bit about yourself
Hi! My name is Cristina Speranza and I am a new graduate Physiotherapist that has recently joined the Empower NSW team. I completed a Bachelor of Human Science majoring in Human Movement at Macquarie University and a Masters of Physiotherapy at the University of Technology Sydney. During my degree, I discovered that Physiotherapist's can treat much more than your usual musculoskeletal injuries, in fact we can EMPOWER client's to achieve their goals and improve their quality of life. I have discovered a deep passion for neurological rehabilitation and in the future I aspire to become a clinical educator and share my knowledge and passion for Physiotherapy with the future generations to come.
In your new position at Empower, what will you be looking to achieve in 2021?
Being the first Physiotherapist on the NSW team, I would love to share my current knowledge with future Empower Physiotherapist's and contribute to expanding the team. I would also love to learn and expand my own Physiotherapy skill set to ensure I am delivering quality care to all clients.
What do you love most about your role?
I love when client's feel a sense of accomplishment and happiness when they have achieved their goals. That is the reason why I wake up every morning and do what I do. I also love being able to connect with client's and hear their stories and wisdom.
What has been your most memorable moment?
The most memorable moment of my Physiotherapy career was when I was managing a paraplegic client and she had been hospitalised for 5 months since her injury. She had not left the hospital in that time and her goal was to complete a car transfer to go for a drive to Coogee beach. The only thing that was stopping her, was her inability to complete a transfer out of her wheelchair. After a lot of motivation, intensive practice and strength training she was able to complete the car transfer and her husband drove her to Coogee beach. After the drive, she was crying of pure happiness and could not stop thanking me for never giving up on her. That was the moment when I realised no matter what condition the client has there is always an alternative solution for them to achieve their goals.
What attracted you to Empower?
Being a new graduate Physiotherapist, I initially found it quite overwhelming to start practicing with minimal to no supervision. Empower offered a great new graduate program that has a great balance of support and independence. Another aspect that attracted me to Empower was that it permits me to treat clients in their own homes. This enhances the specificity of treatment options and it makes the therapy more relatable and functional for each client.
What piece of advice would you give your new graduate self?
The best piece of advice I would give to myself and any new graduate was a mantra I was told by a UTS lecturer, and it is "Don't overcomplicate it. Keep it simple stupid." Also take any opportunity that comes your way because opportunities breed opportunities.
Out of the workplace, what are your interests and hobbies?
I love going to the gym and exercising. I enjoy a variety of training styles including strength training, cardiovascular training, Pilates and boxing. More importantly I love food and cooking, especially baking! Being Italian it's in my genetics. I also love to travel (COVID has been a bit of a buzz kill with that) but I am definitely making the most of traveling around Australia.
What's a fun fact about you many people may not know?
A fun fact is that I was a dancer for 15 years and I used to compete around NSW. I also used to play the piano at a very high level during school. I still know how to play "Empire State of Mind" by Alicia Keys, "End of the Road" by Boys to Men, "Clocks" by Coldplay and a few others.
Our Service Guarantee
"Our promise: We respond faster. Whether it's our short waiting lists, same day reporting or simple referral process, you can rest assured that your client is in the best hands."
We have listened to our clients and they don't have the time to micro-manage their portfolio. They want to partner with someone that is reliable and dependable with transparent pricing structures.
Adam Gilroy Smith, CEO reveals, "Empower has grown by 100% over the past year based on our service model across Home Care, NDIS and Residential Aged Care. By listening to our clients and the challenges they face, we adapt, stay well positioned and respond fast to deliver exceptional care. The launch of our new service model is another example of Empower Healthcare's ability to be agile in a rapidly changing environment."
How To Get Clients Started With Our Services
Simply click on the image below for our referral form.