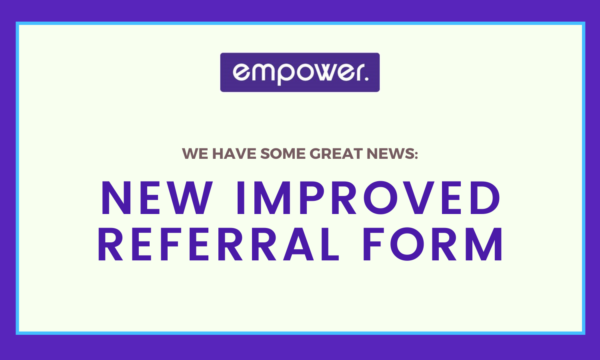 Empower Healthcare Enhances Customer Experience with New Referral Form
LIVE Monday 20 September 2021
We've had a hugely positive response since we introduced our online referral form last year, enabling you to lodge requests for service with us digitally.
We have listened to your feedback and that from our Intake Team and made a few changes to improve your experience even further, ensuring we can arrange a clinician best suited to see your client as soon as possible.
With our improved referral form experience, completion is within a few minutes allowing you to spend more time liaising with your clients.
The main improvements are;
Simplified process by only asking questions specific to your client's needs
Expedited delivery of service with improved validation of information
Saving capabilities of a partially completed form to finish later
When you submit a referral, we will automatically send you an acknowledgement email with a complete copy of everything you sent to us.
FAQs
What information do I need about the client to instantly complete the form?
We'll ask you about the client and their medical history, who to contact for appointments, their emergency contact, and details of the service you require.
Who do I contact if I have a question about the referral form?
Our Relationship and Operational Managers are available to help you with any questions regarding the referral form.  Please contact your relevant state's representative.
Victoria
HCP enquiries – call Eloise Mellor on 0435 365 818
NDIS enquiries – Mike McDermott on 0410 594 710
NSW
HCP & NDIS enquiries – Jonathan Reyes on 0435 365 937
QLD
HCP & NDIS enquiries – Tammy Pearce on 0451 786 724
WA
HCP & NDIS enquiries – Kurtis Rae on 0402 362 511
Can I partially complete the form and return later to complete?
Yes, when you exit the form, you'll receive an automated email with a link that remains valid for 30 days.
How do I access my partially complete form?
Simply open our email and click on the custom link provided.
What information is included in the acknowledgement email?
We'll send a full copy of everything submitted for your own records.
About Empower Healthcare
We Change Lives
Changing lives is what we do.
Delivering high quality allied health services is how we do it.
Empower Healthcare was founded in 2016 by two people who were determined to improve the standards of allied health services in residential aged care and knew how to do it. With industry knowledge and an innovative approach, Adam and Matthew set about defining what allied health services can be when quality and person-centred care is placed before all else in healthcare.
The partnership, that merged clinical expertise with business acumen, soon established Empower Healthcare as a leading provider of quality physiotherapy services in residential aged care facilities in Victoria. This success fueled the expansion of our services within residential aged care, home care and NDIS to deliver occupational therapy, physiotherapy, nursing, podiatry, dietetics, osteopathy, massage and speech pathology.
Now offering comprehensive allied health services with more than 180 dedicated and passionate clinicians working in Victoria, Western Australia, New South Wales and Queensland, Empower Healthcare is growing and taking our unique approach with us.
A lot has changed over the years but not our commitment to the highest quality care, delivered by expert clinicians, aimed at improving the independence and quality of life of our clients- helping our clients live their lives the way they want to.
How To Get Clients Started With Our Home Care & NDIS Services
Simply click on the image below for our referral form.