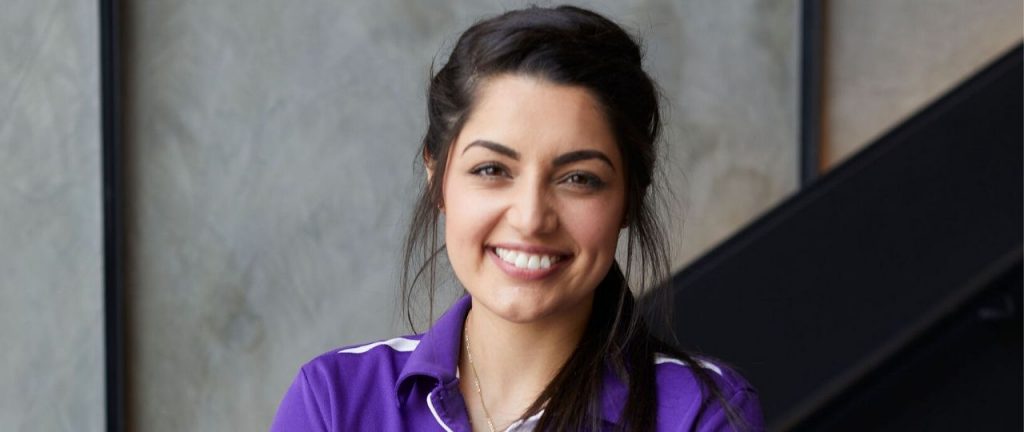 Leah's recent promotion to Home Care Physiotherapy Team Leader, allows her to be an advocate for the Home Care team and share ideas to management. Read her incredible stroke survivor story and his inspiring journey.
Why did you choose Empower?
I met the management team at the end of year conference for the University of Melbourne Physiotherapy graduates. Empower's clinical educator gave a speech about their comprehensive new grad program and the regular professional development that they encouraged. It was a month or so after the conference that I received a call. It was from Adam, the CEO. He asked whether I was interested in coming in for an interview. I was completely unsure of what I wanted to do at the time, so I thought 'why not!'. During the interview, I was impressed with how family oriented they were and that they appeared to care about every individual, so when they offered me the role I said 'yes' and here I am today.
What do you love most about your job?
Working in Aged Care is the most rewarding job I have ever had. The opportunity to meet, learn from and most importantly, help those with almost ten decades worth of life experience is something I am truly grateful for. I also work in the community, where I travel to clients houses and conduct rehabilitation-based therapy with them. Assisting someone to gain the strength and independence to safely remain in their own home or achieve their mobility goals is extremely rewarding.
Recently, I was promoted to Home Care Physiotherapy Team Leader. I have loving the opportunity to liaise with the Home Care team and advocate for their ideas to the management team.
What has been your most memorable moment?
There was a man who was admitted to the aged care facility after suffering a severe stroke. He had attended rehabilitation therapy at the hospital for months but was still unable to walk or support himself while sitting. He requested physiotherapy sessions on admission, so we began with simple exercises and progressed from there. He stands out so clearly in my mind as he was one of the most motivated people I have ever met! Every time I walked past his room; I would see him practising the exercises that I had given him. After a few months, he walked out of that facility and returned home with his family. He was truly a testament to what we can achieve when we put our mind to something and I'm so grateful that I was able to be part of such a journey!
In what ways has Empower supported your growth personally & professionally?
While at Empower, I've had the opportunity to progress from being a newly graduated physio to a Site Leader and now the Physiotherapy Home Care Team Leader. With a new grad program, fortnightly PD with the team, quarterly professional development with the entire company and funds to complete external professional development courses, Empower has provided me with many opportunities to grow in both a personal and professional sense.
In your new role, what will you be looking to achieve in 2020?
I'm looking forward to collaborating with the physiotherapists and osteopaths who work in the Home Care team to understand their difficulties and their ideas for improvement. I'm eager to explore these ideas in order to cultivate a team that is supported, motivated, engaged and destined for success.
What piece of advice would you give your new graduate self?
"Celebrate, Give it a go, Ask for feedback and Stay curious."
I know there are a few in there but I think they're all important! Celebrate your achievement – it's huge! You've made it through university, and you have a world of opportunity just waiting for you. Take the time to let that soak in. Then when you've found a job, give everything a go and accept that you're going to make mistakes! I've mentored and worked with a few new grads and it's much easier to help someone to realise their own potential when they're ready to give things a go, ask questions and take feedback on board. Finally, stay curious. Keep up to date with current research, make connections and question the way things are done. You'll be surprised at how often you can truly make a positive change.
Tell us a bit about yourself
I love eating at interesting places, playing goal shooter in netball, reading Harry Potter and Lord of the Rings and hiking on windy days. I also love going to concerts, Christmas and spending quality with my family and friends.