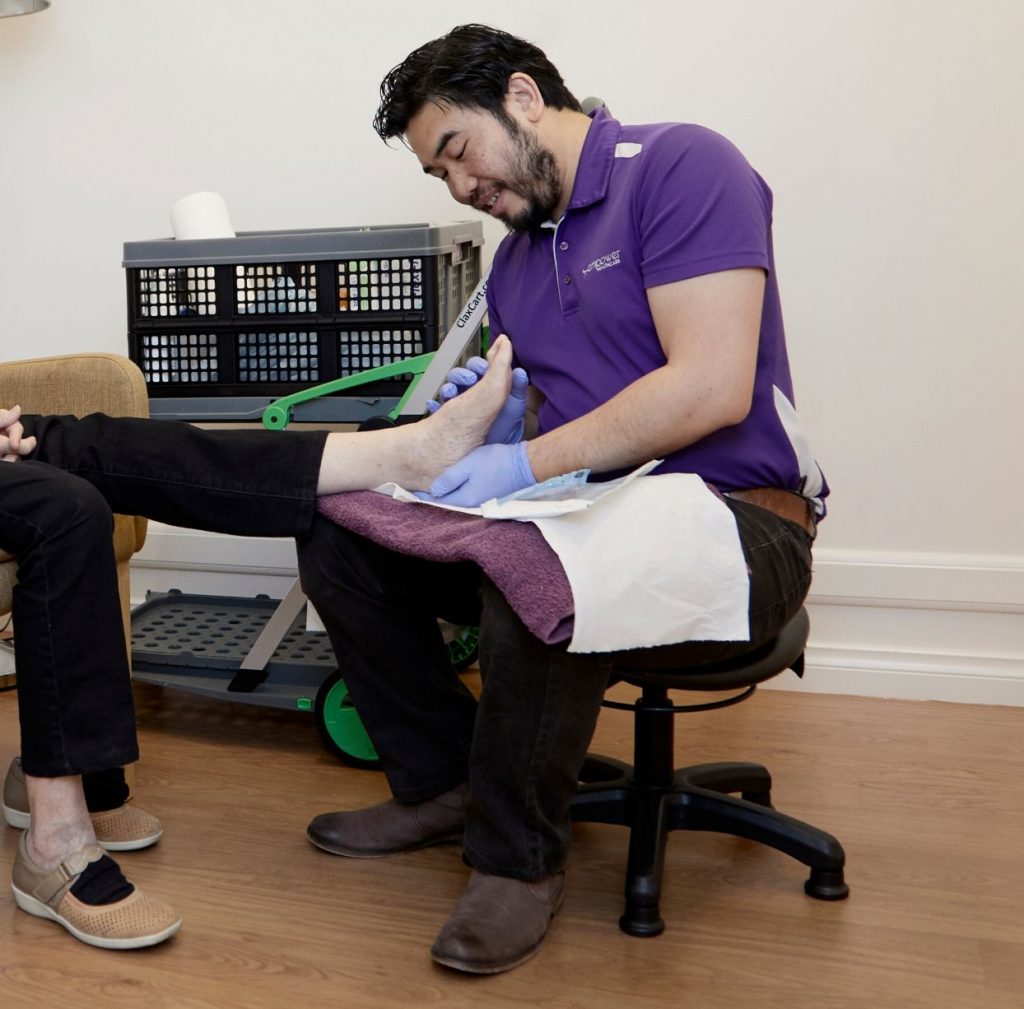 AGED CARE PODIATRY SERVICES
Exceptional podiatry that promotes healthy feet and an active lifestyle
When you work with Empower, you can rest assured that your resident's footcare needs are being taken care of. Our aged care podiatry program provides diagnostic and therapeutic foot care, promoting healthy feet and an active lifestyle for your resident.
We work tirelessly to lower the cost of podiatry whilst lifting the level of care delivered. Plus we provide training and support to utilise the EPC program to reduce costs.
Empower's aged care podiatry team cap treatment numbers to give you high-quality services you are paying for.  Plus, we've listened to our clients and now include Doppler ultrasound assessments into annual resident podiatry assessments at no extra cost.
Our 6 weekly podiatry program provides comprehensive foot care to your residents and includes:
Initial assessment
General nail trim
Trimming of ingrown nails
Treatment of painful calluses and corns
Diabetic foot care
Prevention of infections
Treatment of foot trauma
PODIATRY IN AGED CARE
Tailored Podiatry Services
Good foot health is pivotal in facilitating independence, mobility and a pain free lifestyle. Our experienced team of qualified professionals provide preventative and therapeutic treatments to ensure all residents reap the benefits of healthy feet.
Assessment and Care Plans
Full podiatry assessment and development of care plans with ongoing review.
General Nail Care
General nail and skin care includes cutting nails, especially those that have become thickened or infected and removing any painful callus or corns as well as treating blisters from footwear.
Lower Limb Care
Assessment and management of chronic lower limb wounds and feet.
Continuity
Regular clinicians to maintain continuity of treatment.
Emergency Service
Follow up on emergency referrals outside standard consultation schedules.
Funding Management
Appropriate use of EPC, DVA and bulk billing for eligible residents.
Pressure Care
Typically resulting from prolonged bed rest
Wheelchair Injuries
We can treat bruises, sprains, strains, lacerations and pressure sores from unfortunate wheel chair occurrences.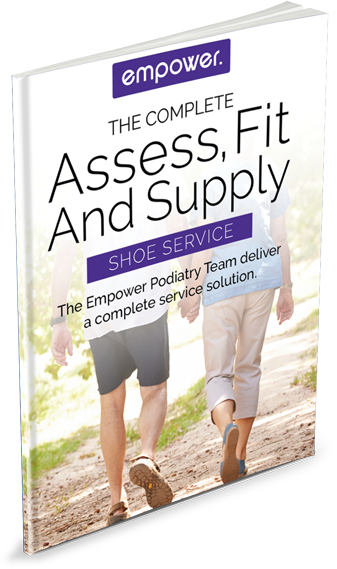 reduce your client's risk of falling
The Empower podiatry team have developed a full-service solution that can reduce your client's risk of falling and allow them to be independent, active and safe.
We now offer an assessment, fitting and supply of appropriate footwear to improve balance, mobility and prevent falls.
Empower has formed partnerships with highly reputable brands such as Dr Comfort, Homyped and Pedors so that we can fit clients with conditions like: diabetes, bunions, oedema, deformity, extra-width, Arthritis, Dementia and incontinence.
This service is available across all healthcare channels; Home Care, NDIS and Aged Care.
Download our flyer to learn more or call our Home Care Support Team to get started.
Download
OUR SERVICE COMMITMENT TO YOU
We guarantee to make you, your residents and their families happy
We promise to deliver the best Return on Investment for Allied Health Services through our value packed services that improve the quality and safety of care provided.
Complete confidence in your service partner
Strong and genuine relationships with residents
Trust in compliance & support with funding
Exceptional quality of care focused on the best outcomes for each resident
Services that maximise return on investment
Continuity of care with the same clinician
Testimonials
What our clients say about Empower Healthcare
We are overwhelmed by what you guys do here; we never had such quality of allied health services before
Antoinette Sloan, Director of Nursing
You have such a great team that are seen as part of the family who work well with all staff and residents.
Lisa Perry, Managing Director
OUR SERVICE REGIONS
Service Coverage
Victoria
Greater Metropolitan Melbourne and surrounds
Mornington Peninsula
Geelong & the Bellarine Peninsula
New South Wales
Greater Metropolitan Sydney and surrounds
Queensland
Greater Metropolitan Brisbane and surrounds
Western Australia
Greater Metropolitan Perth and surrounds