NDIS Occupational Therapy
NDIS OCCUPATIONAL THERAPY SERVICES
Our NDIS Occupational Therapists Can Help With Independence
Empower's Occupational therapists provide a broad range of services to enable people to be more independent and participate in everyday life activities.
Our NDIS Occupational therapists can help people:
Be engaged with their community
Access specialist equipment and home modifications
Be more independent at home, school or work
Improve their health and wellbeing
Look after their own personal care
Manage their emotions
The Occupational Therapist will also teach the parent or carer:
How to use equipment
How to access the community
Our NDIS Occupational Therapists work alongside our Physiotherapists, Dietitians and Podiatrists to provide a united and holistic approach to care.
We support individuals with complex support needs
The team treat a wide range of NDIS clients and are experienced in dealing with people that have disabilities such as:
Intellectual Disability
Autism
Mental illness associated disability
Cerebral Palsy
Spinal Cord Injury (SCI) such as paraplegia, quadriplegia, hemiplegia
Down Syndrome
Neurological conditions such as Motor Neurone Disease (MND), Parkinson's Disease (PD), Multiple Sclerosis (MS), Alzheimers
Acquired brain injury (ABI)
Stroke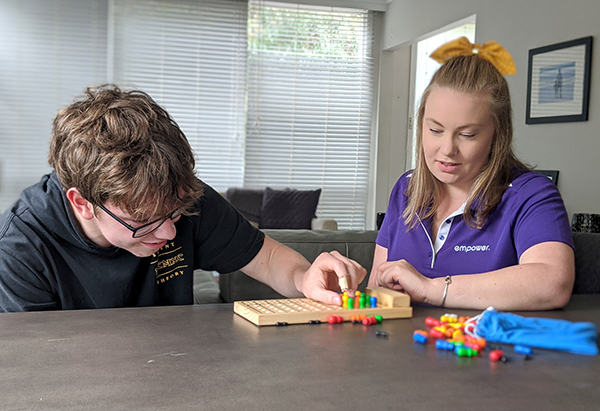 NDIS OCCUPATIONAL THERAPY SERVICES
We provide a broad range of services
Neurological rehab - stroke, brain injury, spinal cord injury
Equipment and assistive technology prescription
Pressure care recommendations
OUR SERVICE COMMITMENTS TO YOU
We Understand Your Needs and Deliver
Rapid Response – that's our service guarantee
We acknowledge all referrals immediately and appointments are confirmed within 48 hours.
Prompt Treatment
Initial appointments completed within a short time frame of receiving referral.
Continuity of Care
With an 87% retention rate, your clients can enjoy the same clinician while receiving meaningful, ongoing care.
Timely Reporting
We update you on the same day or within 24 hours of the initial appointment.
Cost Effective Services
There are no hidden fees. Our pricing includes travel, treatment and documentation time.
Professional and Friendly Team
We take the time to get to know every consumer, allowing us to create meaningful care plans to support their life goals. We are experts in co-ordinating services provided through Home Care packages, NDIS funding and scheduling private consultations.
Testimonials
What our clients say about Empower Healthcare
I appreciate Jacqui's approach and the respect she has shown this participant who has severe cognitive impairment. As always the staff at Empower are impressive!
Kim Garlick, Specialist Support Coordinator
I am so appreciative of Empower's involvement with my daughter's nursing support. I can finally step back as a carer to be a father and this has brought great joy and happiness.
Jeff Trinder, father
OUR SERVICE REGIONS
Service Coverage
Victoria
Greater Metropolitan Melbourne and surrounds
Mornington Peninsula
Geelong & the Bellarine Peninsula
New South Wales
Greater Metropolitan Sydney and surrounds
Queensland
Greater Metropolitan Brisbane and surrounds
Western Australia
Greater Metropolitan Perth and surrounds