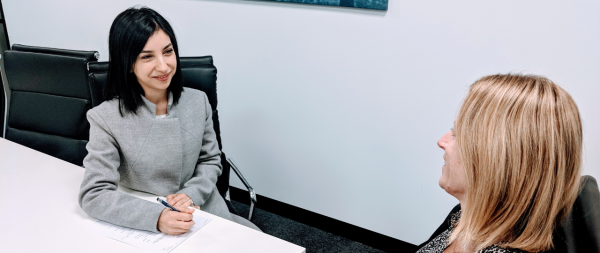 You'll need to demonstrate in your resume and during your job interview that no one else is better suited for the job. Learn how to prepare your resume so you stand out from the crowd and adopt interviewing techniques that leave a lasting impression.
Learn how to demonstrate in your resume and during your job interview that one else is better suited for the graduate program position.
Resume Writing
Your resume provides the first opportunity for you to sell yourself and first impressions matter! So don't underestimate how important it is to have a good resume. Below are some resume writing tips that will help your application stand out:
1. Format
Your resume should be easy to read and look professional. Use Arial or Times New Roman fonts, size 10 or 12 and keep the colour neutral. Start by following these subheadings:
An introduction or objective statement
Your work experience and achievements
Your education and study accomplishments
Interests (Optional)
Your referees
2. Tailor your resume to the role you want
Keep the content highly relevant to the skills required for this position.
Pay attention to the introduction and ensure that information is regularly updated to reflect your current situation (eg. Seeking a casual role in retail while studying may not work in your favour when applying for a graduate program).
List your most recent experience first and then work your way back down the list. Feel free to include past jobs that are not related to your current field of study, however keep it brief. It's best to provide more detail on relevant placements/internships you have completed.
3. Highlight your achievements
Instead of just listing your responsibilities in each role, highlight at least 1 achievement under each role and the results you achieved.
As a student, if you were involved in any extracurricular activities or volunteer work make sure you highlight these too!
4. Keep it simple
Only include relevant information and try to keep it within 2 pages.
5. Proofread and edit
Attention to detail is important so check for spelling and grammar mistakes. Ask for someone else to read over your resume, they may pick up something you have missed.
Interviewing Techniques
There's interview preparation. And then there's REALLY preparing for the interview. It's the latter that will get you the job.
Also, the better prepared you are, the more relaxed and comfortable you will be when the questions begin. Here's a few interview tips and suggestions to supercharge your preparation.
1. Research the company
Look up the company website and social media to obtain background information on the company. This shows that you are serious about the role and also allows you to prepare relevant questions for your interviewers. If possible, also obtain the names and position titles of the interviewers prior to the interview.
2. Consider personal presentation
Dress appropriately. Ask the recruiter what the dress standards are for this company or if in doubt dress "business professional".
3. Don't be late!
Prior to attending the appointment make sure you check and confirm address details, check if there is parking nearby or public transport. Always allow extra time for traffic and if you are running late let the recruiter know.
4. Take relevant documents
Bring in any documentation that you feel will support your application. This can include a resume, written references, testimonials, certificates, awards…
5. Prepare questions
An interview is also an opportunity for you to find out if this is the right role for you so come prepared with relevant questions.
6. Interview questions
Be prepared to give well thought out and clear responses to interview questions. Provide more than one-word responses when required but also pick up on the interviewer's cues and don't go into too much unnecessary detail. You may also be asked behavioural / competency-based interview questions so be prepared to provide some real-life examples from your previous work/placements.
7. Attitude is everything
Sometimes a positive attitude is more important than your work experience! Showing a genuine interest in the company, demonstrating a willingness to learn, and being friendly will also help you stand out in the process.
Empower's Graduate Program
Our professional and comprehensive graduate program can set the foundations for a bright career!
Get the support you need to transition into life as a first-year clinician and extend the skills you worked hard to develop at university.
We have created a comprehensive 12 month program that provides you with the tools and training to grow as a professional through:
structured learning
mentoring
peer support and
e-courses.
See our Graduate Success Map below for our yearly graduate program.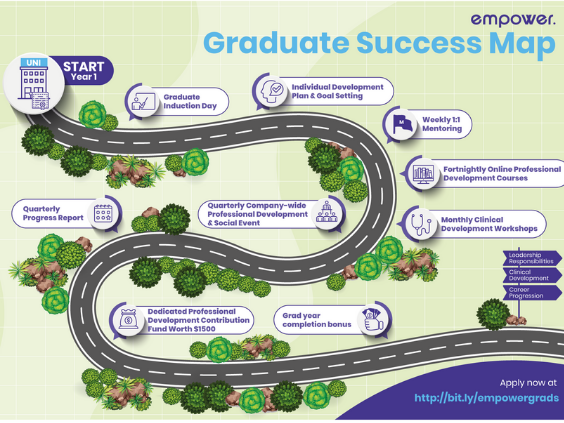 At Empower, we value our staff and make everyone feel welcomed, accepted, and appreciated. Inclusivity and belonging are a part of our core values at Empower and with our graduate program, you'll get to train with the best.
If you're looking to get your physio career kicked off to a great start, make sure you apply with Empower.
Make sure you don't miss out!
We have 10 graduate program positions available for 2020.
Applications close 10 December 2019.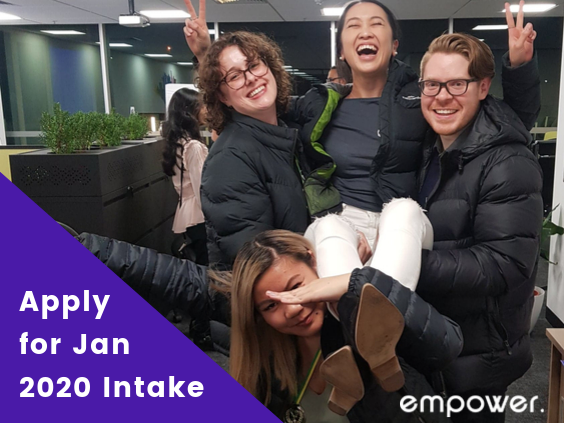 Want more information on our Graduate Program?
Call Lilian our Recruitment Manager for a copy of our our Graduate Program flyer on 0412 709 161
Interested in joining the Empire family?