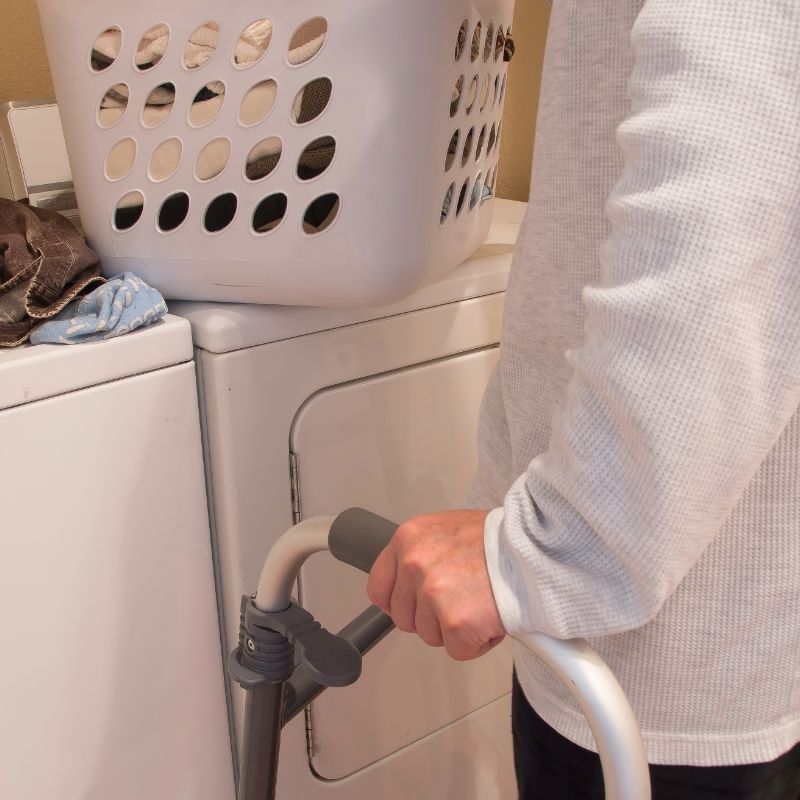 For people recovering from injury and surgery, or managing a chronic illness or disability at home, it is often the little things that can be the most frustrating – from hair washing to buttoning a shirt. Research has shown that Activities of Daily Living (ADL) retraining is important for improving an individuals' sense of self identity, quality of life, and ability to live safely in their own home. Occupational therapists focus on enabling clients to participate in life activities that are important and meaningful to them.
What Are Activities of Daily Living?
ADL's include all those basic activities we engage in to make sure that we survive and can function in society. These are the little and not so little things we all need to do to take care of ourselves, our families, and our homes.  ADL's include some of the most important skills for independence–but also some of the most challenging.
Some Activities of Daily Living include:
Grooming and hygiene
Functional mobility and getting from place to place.
ADLs could also include activities to support the various roles we play in our lives such as:
Laundry
Cooking
Writing
Using the computer
Gardening
Driving
Leisure activities are also considered activities of daily living as they are essential for quality of life.
How Can Occupational Therapy Help with Retraining in Daily Living Skills?
An at-home rehabilitation program with a skilled occupational therapist can help clients retrain in daily living skills and regain independence, confidence, and quality of life.
Some of the techniques used in occupational therapy for ADL include:
Making recommendations for changes to be made in your home and equipment needed, including shower bars, non-skid surfaces on stairs, built up cutlery and helping patients learn to use new equipment.
Individualised strength-based training using theraputty and hand therapy.
Reteaching basic movements, from getting in and out of bed to getting in and out of the shower or bath.
Working with clients on actual daily life activities to regain fine motor skills and confidence. This includes activities like opening and closing a tube of toothpaste, working on buttons and zips, stacking coins, and picking up small objects.
Doing arts, crafts, cooking and baking–both as a creative release and a fine motor skill booster.
Playing games like cards and chess that involve picking up small pieces as well as using cognitive strategies.
The main goal of retraining Daily Living Skills at home is restoring independence. Ability to complete ADLs is a predictor of safety and independence in the home. Helping clients develop the skills and confidence they need to remain at home is a goal that home care Occupational Therapists aim for every day when working in the community.
Learn More About Our Home Care Occupational Therapy Services
About Empower
We Change Lives
Empower Healthcare is a national allied-health service provider and partner with Home Care package providers, NDIS plan managers & Aged Care organisations to deliver life changing allied health services. We offer a full-service platform from physiotherapy, occupational therapy, podiatry, dietetics to osteopathy, massage therapy and most recently, home nursing services and pride ourselves in the delivery of high-quality therapy solutions, value packed services and responsive ethos.
It is a very exciting time with Empower Healthcare building on the success of its Victorian operation and now expanding nationally into NSW & WA. With a growing team of 100+ clinicians, we provide over 1,500 treatments every day and service more than 100 healthcare organisations. Building on this strong foundation, we are well positioned and committed to delivering exceptional care.
Our therapists genuinely care about the people we work with and take the time to build strong relationships that holistically improve social, physical and mental wellbeing to live happier and healthier lives.
How To Get Clients Started With Our Home Care & NDIS Services
Simply click on the image below for our referral form.