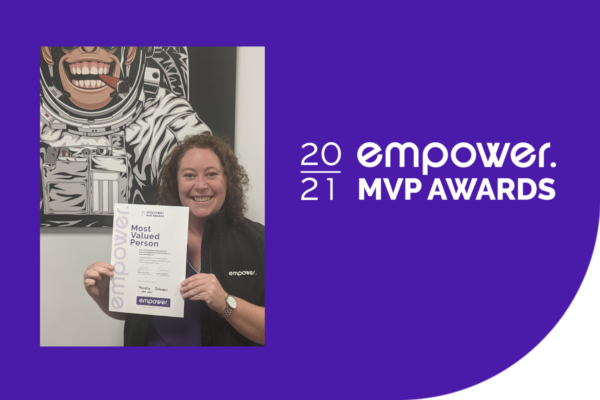 Most Valued Person
This month Nicola Johnson has been awarded Most Valued Person for her coordination and delivery of virtual ergonomic home office assessments to Mayflower employees.
Many of our clients tap into this service and Nicola certainly won over the employees from Mayflower.
"Thank you for assisting with and arranging the ergonomic home assessments for Mayflower.  The session was very beneficial for me personally and we received feedback from a number of team members about how helpful the assessments were."
Rachael Hunt, HR Business Partner
Congratulations again Nicola for being selected as our MVP for May.
As part of our physiotherapy advisory services, we conduct ergonomic workstation education sessions and assessments to ensure each employee is set-up correctly in an efficient and safe environment that reduces the risk factor for workplace-related accidents.
If your organisation is interested in ergonomic workstation education sessions and assessments for its team members, contact your Relationship Manager today to learn more.
The Empower Difference
Changing Lives Through Exceptional Care
We pride ourselves in the delivery of innovative, high-quality, allied health solutions that constantly evolve to exceed the needs of your clients and their communities. Our service model integrates five service commitments that empower you to help your clients improve their sense of self-identity, quality of life, and ability to live safely in their environment.
Extensive service offerings
Care provided by highly skilled clinicians
A team approach to delivering continuity of care
User friendly referral process
Superior reports providing clarity on future care needs.
Click on your relevant health care industry sector below to learn more.
How To Get Clients Started With Our Home Care & NDIS Services
Simply click on the image below for our referral form.