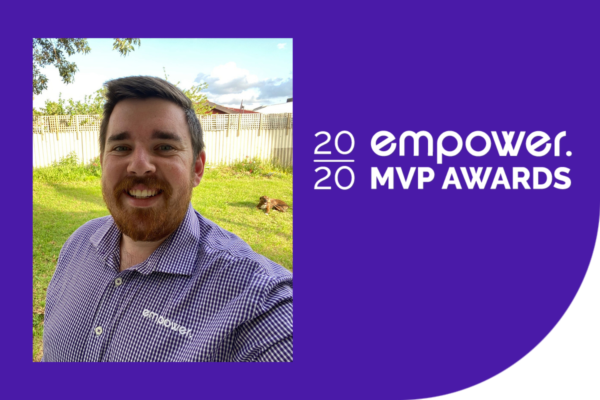 Our Most Valued Person award series celebrates the commitment of our people to consumer care and customer service. Each month we will recognise an individual that builds on our culture by demonstrating our values in their work. Everyone loves reading about peoples success and achievements. This month we shine the spotlight on Kurtis Rae.
Most Valued Person
Kurtis Rae, Relationship Manager – WA
Kurtis is an incredible new asset to the Empower Team and has seamlessly fitted into his role as Relationship Manager for WA.  He is an excellent communicator and has quickly built rapport and trust with our clients and the WA healthcare community. With an analytical mind and strong problem-solving skills, Kurtis applies his strategic thinking to advise and present welcoming solutions.
This is what Christie Boyd had to say about Kurtis…
'Kurtis is a relationship manager that goes above and beyond in his role. I am a Support Coordinator and am limited in my time. Kurtis is very responsive both to myself and our clients, he follows through on what he says and he always has time to talk things through to get the best results for our clients.'
Congratulations!
Our Service Guarantee
"Our promise: We respond faster. Whether it's our short waiting lists, same day reporting or simple referral process, you can rest assured that your client is in the best hands."
We have listened to our clients and they don't have the time to micro-manage their portfolio. They want to partner with someone that is reliable and dependable with transparent pricing structures.
Adam Gilroy Smith, CEO reveals, "Empower has grown by 100% over the past year based on our service model across Home Care, NDIS and Residential Aged Care. By listening to our clients and the challenges they face, we adapt, stay well positioned and respond fast to deliver exceptional care. The launch of our new service model is another example of Empower Healthcare's ability to be agile in a rapidly changing environment."
How To Get Clients Started With Our Services
Simply click below to complete our referral form.