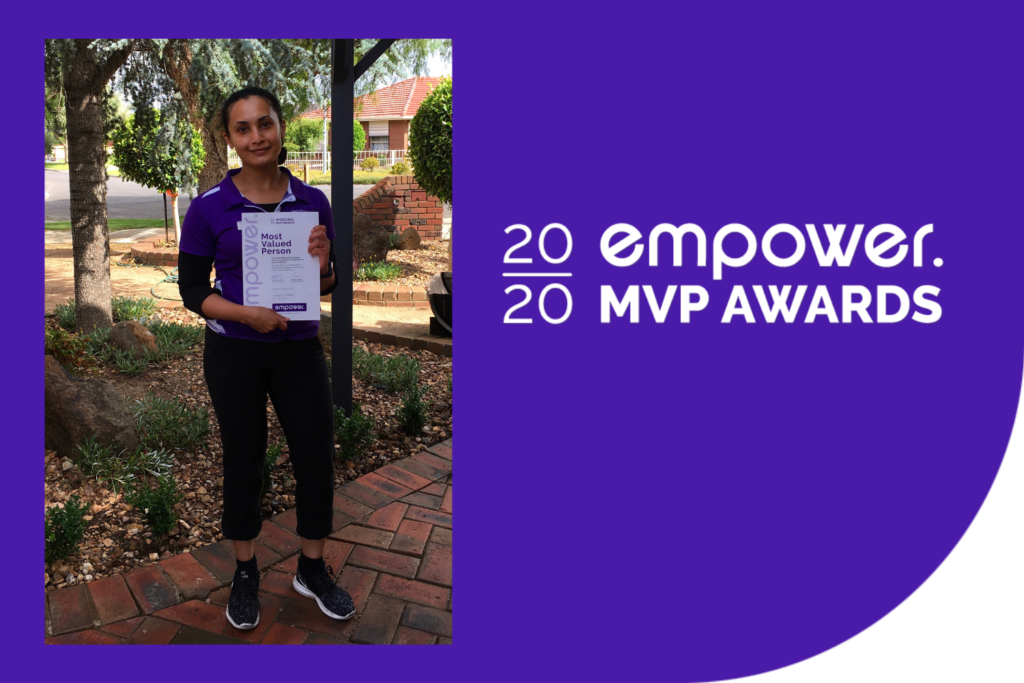 Our Most Valued Person award series celebrates the commitment of our people to consumer care and customer service. Each month we will recognise an individual that builds on our culture by demonstrating our values in their work. Everyone loves reading about people's success and achievements. This month we shine the spotlight on Joanna Thomas.
Most Valued Person
Joanna Thomas, Physiotherapist
Joanna is one of our Site Leaders at a RAC facility.  Joanna was involved in re-adjusting the team so there was no cross over in servicing another facility, ensuring infection control processes were implemented and adhered to protect the residents and staff. Our clinicians noticed that when facilities went into lockdown, lack of social interaction with loved ones, friends and even fellow residents greatly impacted the mental health and happiness of residents, so Joanna and her team stepped up to help bring joy, connection and essential services through one-on-one initiatives to maintain quality of life.
Nominated by Richa Nadkarni, here is what she had to say about Joanna…
"Over the last few months, due to single site rules, we were working overtime on most days for over two months. Joanna was a great leader throughout this, constantly advocating for us. During this time, residents were not able to see their family and Jo lead by example; going beyond the duties expected of her as a physio to make sure we were helping residents the best we could. On site management is also always appreciative of her good communication."
Congratulations!
Our Service Guarantee
"Our promise: We respond faster. Whether it's our short waiting lists, same day reporting or simple referral process, you can rest assured that your client is in the best hands."
We have listened to our clients and they don't have the time to micro-manage their portfolio. They want to partner with someone that is reliable and dependable with transparent pricing structures.
Adam Gilroy Smith, CEO reveals, "Empower has grown by 100% over the past year based on our service model across Home Care, NDIS and Residential Aged Care. By listening to our clients and the challenges they face, we adapt, stay well positioned and respond fast to deliver exceptional care. The launch of our new service model is another example of Empower Healthcare's ability to be agile in a rapidly changing environment."
How To Get Clients Started With Our Services
Simply click below to complete our referral form.