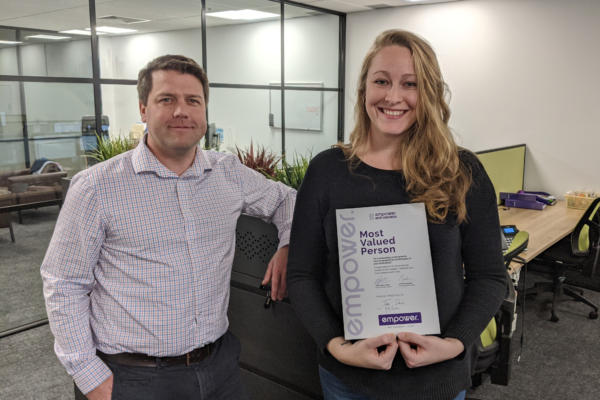 Our Most Valued Person award series celebrates the commitment of our people to consumer care and customer service. Each month we will recognise an individual that builds on our culture by demonstrating our values in their work. Everyone loves reading about peoples success and achievements. This month we shine the spotlight on our MVP May winner, Tara Daly.
Most Valued Person
Tara Daly, Home Care Support Team Leader
Tara plays a vital liaison role between our clients and the consumers, in connecting and scheduling the right support services in line with the referral requests and funded health care plans.
Tara's empathy, patience and most evident, compassion is what makes her shine. Her kindness, caring, and a willingness to help others, combined with her streamlined systems & processes, ensures that our client's know exactly what is happening, and don't have to follow-up. Everyone agrees that they are in great hands and can focus on achieving other core elements of their role.
Dimitra Petropoulos, Case Manager from Pronia nominated Tara for her proactiveness and reliability, and it is this quality that sets us apart.
Our MVP Award program acknowledges and celebrates outstanding achievements and success made by our employees, clients, and consumers.
Our Service Guarantee
"Our promise: We respond faster. Whether it's our short waiting lists, same day reporting or simple referral process, you can rest assured that your client is in the best hands."
We have listened to our clients and they don't have the time to micro-manage their portfolio. They want to partner with someone that is reliable and dependable with transparent pricing structures.
Adam Gilroy Smith, CEO reveals, "Empower has grown by 100% over the past year based on our service model across Home Care, NDIS and Residential Aged Care. By listening to our clients and the challenges they face, we adapt, stay well positioned and respond fast to deliver exceptional care. The launch of our new service model is another example of Empower Healthcare's ability to be agile in a rapidly changing environment."
How To Get Clients Started With Our Services
Simply click below to complete our referral form.