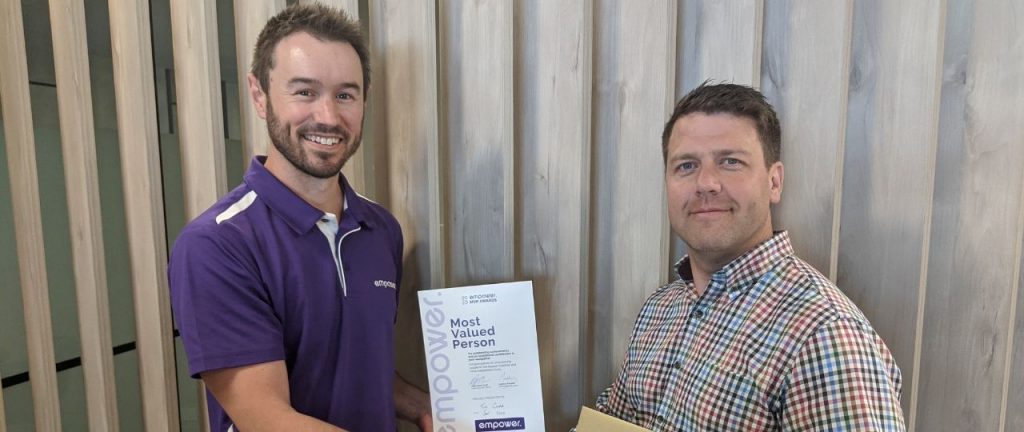 Our Most Valued Person award series celebrates the commitment of our people to consumer care and customer service. Each month we will recognise an individual that builds on our culture by demonstrating our values in their work. Everyone loves reading about peoples success and achievements. This month we shine the spotlight on our Jan winner, Tim Cooper.
Most Valued Person
Tim Cooper, Senior Physiotherapist
We love how Tim looks at the big picture of 'care' and delivers an individualised therapy plan for each consumer while collaborating with other health teams so that the end-goals are achieved.
Here's Daniel's story about Tim.
"When working with a family who have particularly complex needs, Tim liaised closely with me as case manager. This ensured that my client received specifically tailored care – chemotherapy treatment factored in, culturally specific as well as discussion around strategies to avoid allied health worker rejection as has previously been the case.

By starting with the end goal in mind, we spoke about how a gentle/gradual approach was going to apply in this household. Tim decided to meet the family in a shop to consider a piece of equipment our client had their mind set on although we had initial apprehension.

After the first few visits, I received a phone call supported by a prompt email that documented client progress. Client feedback sees physiotherapy continue when one visit was the cautious initial request.

As a worker in this field for 15+ years it is very much appreciated when a fellow community worker automatically recognises their role as part of a greater multi-disciplinary team. I have informed a few of my colleagues of the client-centred approach Tim employs so that more clients from our organisation can benefit. What a great initiative this is to show appreciation for your staff!"
Nominated by Daniel Pfau, Care Advisor, AccessCare