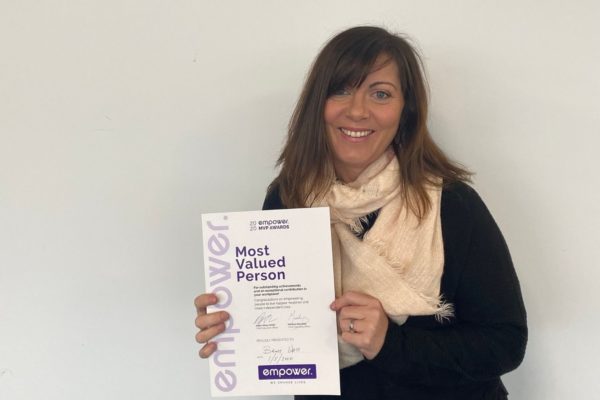 Our Most Valued Person award series celebrates the commitment of our people to consumer care and customer service. Each month we will recognise an individual that builds on our culture by demonstrating our values in their work. Everyone loves reading about peoples success and achievements. This month we shine the spotlight on our April winner, Briony Watt.
Most Valued Person
Briony Watt, Physiotherapist
We know our clinician team are passionate about their work and we love hearing about their successes! Our April winner Briony brings bucket loads of enthusiasm to work and is committed to sharing her passion and the plentiful well being benefits of physiotherapy to clients and consumers.
Here's Anna's story about Briony,
"Briony shows good nature and responsible attitude to her work and has always had excellent relationships with all members of staff, residents and their families. Briony brings a refreshing enthusiasm towards her work and has established herself to be an exceptionally valuable member of our team here at Outlook Gardens Aged Care.

And thanks for doing Pilates classes for our staff in her free time – we all got much healthier in the past 6 months!"
Nominated by Anna Sheran, Outlook Gardens Aged Care.
Our Service Guarantee
"Our promise: We respond faster. Whether it's our short waiting lists, same day reporting or simple referral process, you can rest assured that your client is in the best hands."
We have listened to our clients and they don't have the time to micro-manage their portfolio. They want to partner with someone that is reliable and dependable with transparent pricing structures.
Adam Gilroy Smith, CEO reveals, "Empower has grown by 100% over the past year based on our service model across Home Care, NDIS and Residential Aged Care. By listening to our clients and the challenges they face, we adapt, stay well positioned and respond fast to deliver exceptional care. The launch of our new service model is another example of Empower Healthcare's ability to be agile in a rapidly changing environment."
How To Get Clients Started With Our Services
Existing clients –  Call 03 9583 1364 to discuss.
New referrals – Simply click below to complete our referral form.