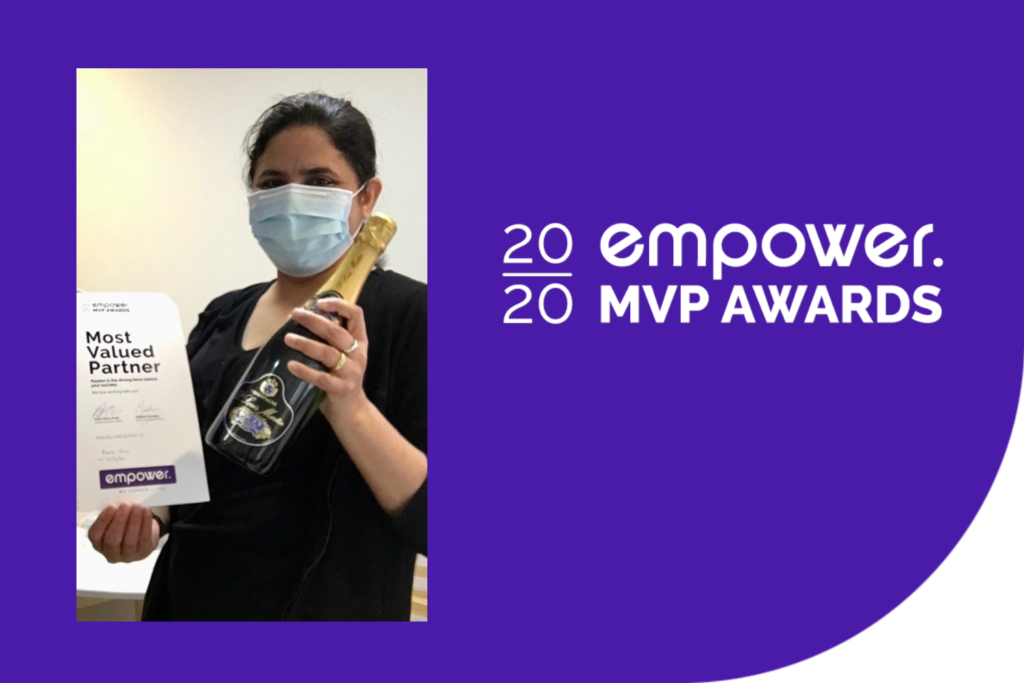 Empower Healthcare proudly announces Reena Kaur as our Most Valued Partner for Oct This award series was launched to recognise each month, a valued client that has gone above and beyond.
Most Valued Partner – Oct
Reena Kaur , Facility Manager
Congratulations Reena Kaur, you are our Most Valued Partner for October
We enjoy recognising long standing relationships and, in this case, it is with sadness that we say farewell to Reena as she embarks on a new career.  Her decision-making skills, compassion and dedication to quality aged care stand out as her greatest assets and her presence will be missed.
"Reena was nominated for her commitment to the clinical care of her residents.  One such demonstration of this recently was her assistance in translating during our therapy sessions. This challenging situation was calmly and professionally managed, taking time out of her busy schedule to help us effectively help the resident achieve his therapeutic goals.  For over five years Reena has been the consistent and care-driven professional that has supervised and promoted the facility's care goals. Wishing you all the best in this next phase of your career!"
Our Service Guarantee
"Our promise: We respond faster. Whether it's our short waiting lists, same day reporting or simple referral process, you can rest assured that your client is in the best hands."
We have listened to our clients and they don't have the time to micro-manage their portfolio. They want to partner with someone that is reliable and dependable with transparent pricing structures.
Adam Gilroy Smith, CEO reveals, "Empower has grown by 100% over the past year based on our service model across Home Care, NDIS and Residential Aged Care. By listening to our clients and the challenges they face, we adapt, stay well positioned and respond fast to deliver exceptional care. The launch of our new service model is another example of Empower Healthcare's ability to be agile in a rapidly changing environment."
How To Get Clients Started With Our Home Care & NDIS Services
Simply click on the image below for our referral form.