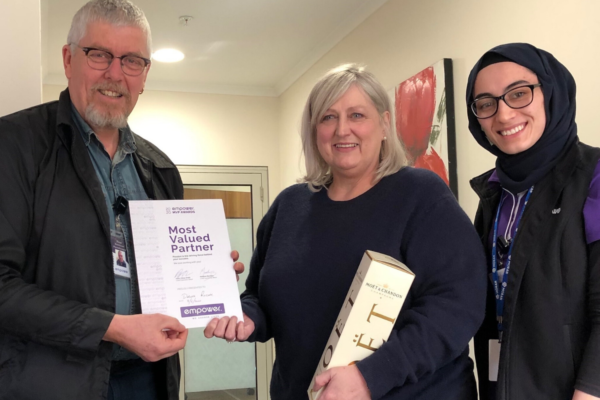 Empower Healthcare proudly announces Darinka Rozanic, General Manager as our Most Valued Partner for May. This award series was launched to recognise each month, a valued client that has gone above and beyond.
Most Valued Partner – May
Darinka Rozanic, General Manager
Nominated by an Empower team member, Darinka is recognised for her passion in her role along with her contagious positivity and leadership that inspires our on-site clinicians, creating a can-do attitude and happy workplace.
'Darinka is very passionate about her role. As General Manager, she demonstrates respect for all staff, regardless of whether they are senior or junior clinicians, and takes time to listen to our concerns (despite her very busy schedule!). What impressed me most was Darinka's passion to assist Empower to provide a high level of care for the residents! She is all ears when it comes to recommendations or suggestions about improving resident care. She takes accountability and is open to take feedback for improvement. Darinka encourages collaborative teamwork, which is what makes working at Moran so enjoyable!'
Nominated by Donna Chau, Physiotherapist & Clinical Educator
Our Service Guarantee
"Our promise: We respond faster. Whether it's our short waiting lists, same day reporting or simple referral process, you can rest assured that your client is in the best hands."
We have listened to our clients and they don't have the time to micro-manage their portfolio. They want to partner with someone that is reliable and dependable with transparent pricing structures.
Adam Gilroy Smith, CEO reveals, "Empower has grown by 100% over the past year based on our service model across Home Care, NDIS and Residential Aged Care. By listening to our clients and the challenges they face, we adapt, stay well positioned and respond fast to deliver exceptional care. The launch of our new service model is another example of Empower Healthcare's ability to be agile in a rapidly changing environment."
How To Get Clients Started With Our Services
Simply click on the image below for our referral form.