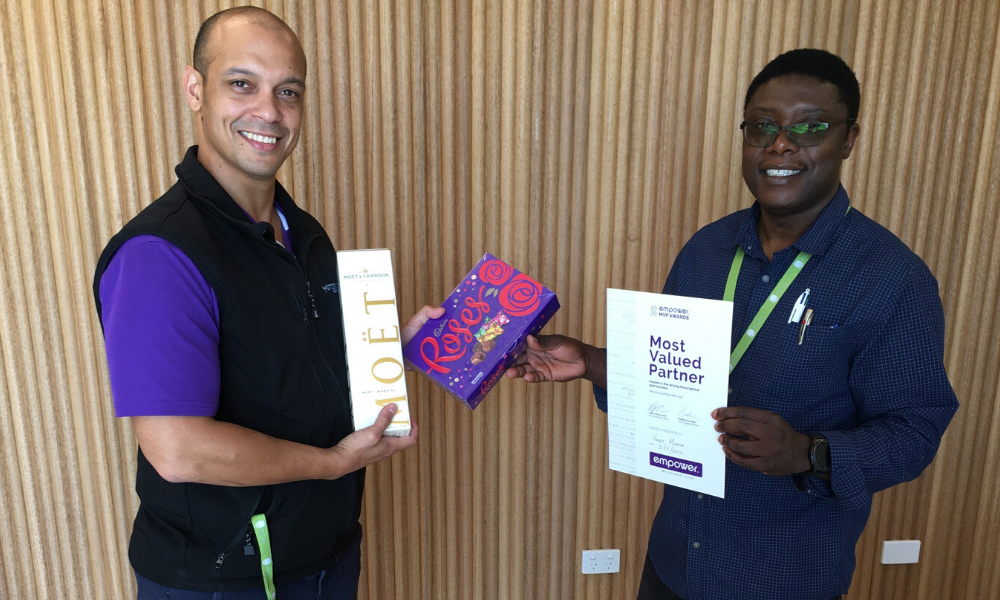 We have launched our Most Valued Partner awards series this year with the intention to recognise each month, a client that has gone above & beyond. Everyone loves reading about peoples success and achievements. This month we shine the spotlight on our Most Valued Partner March winner, Vincent Musona.
Most Valued Partner
Vincent Musona
We all appreciate how important it is to develop strong, positive relationships with our client's care team. Communication is key and together we form a powerful multi-disciplinary team that delivers evidence-based early interventions that reduce health issues with residents or consumers and improve the quality and safety of care provided.
Nominated by Denis Yardin, Osteopath, he listed five reasons why Vincent shines in his role, putting forward a very compelling nomination:
Outstanding inter-professional skills with residents and staff

Very professional RN

Always open to suggestions

Has contributed to improving the workplace greatly since he started mid year 2019.

In my top 5 best RN I've worked with!
Congratulations Vincent.
Our Service Guarantee
"Our promise: We respond faster. Whether it's our short waiting lists, same day reporting or simple referral process, you can rest assured that your client is in the best hands."
We have listened to our clients and they don't have the time to micro-manage their portfolio. They want to partner with someone that is reliable and dependable with transparent pricing structures.
Adam Gilroy Smith, CEO reveals, "Empower has grown by 100% over the past year based on our service model across Home Care, NDIS and Residential Aged Care. By listening to our clients and the challenges they face, we adapt, stay well positioned and respond fast to deliver exceptional care. The launch of our new service model is another example of Empower Healthcare's ability to be agile in a rapidly changing environment."
How To Get Clients Started With Our TeleTherapy services
Existing clients –  Call 03 9583 1364 to discuss.
New referrals – Simply click below to complete our referral form.