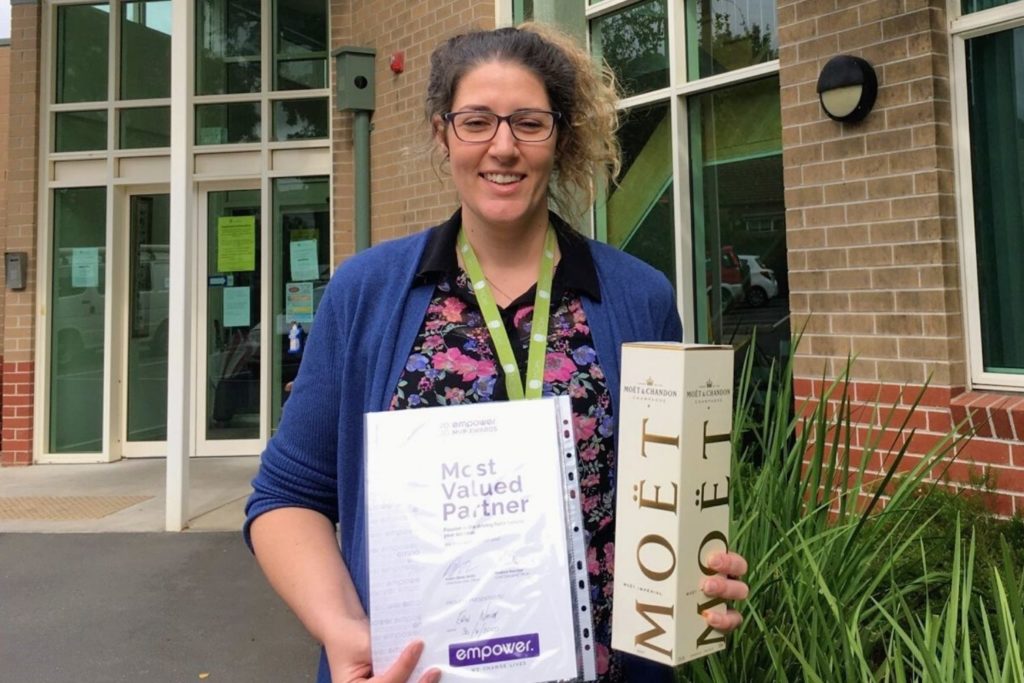 This month we shine the spotlight on our Most Valued Partner Apr winner, Erin Nation. We launched our Most Valued Partner awards series this year with the intention to recognise each month, a client that has gone above & beyond. Everyone loves reading about peoples success and achievements.
Most Valued Partner – April
Erin Nation, Facility Manager
It is well recognised that a good leader makes employees feel appreciated and valued at work and when you treat employees with respect, you create an environment that encourages continuous growth, engagement, and a general, long-term commitment to the organisation — all of which make for a healthy and productive company.
Here's what the Empower team had to say about Erin and her ability to make everyone feel appreciated.
"Erin always makes herself available for all staff members, residents and family members at MiCare Overbeek Lodge, Kilsyth.  She consistently goes outside of her role as Assistant Manager to help out where it's needed in all aspects of caring for the residents.  While Erin holds a senior role, she is more than happy to help when needed. A recent example is when a resident needed assistance with hygiene. Erin could have called a care worker, yet without a second thought, made sure the resident had everything she needed.  Erin is an asset to the facility, and always makes time for us to ask questions or discuss complex cases and collaborate to solve any issues that arise.  Erin makes working at MiCare Kilsyth extremely enjoyable and all the Empower employees feel valued and respected."
Our Service Guarantee
"Our promise: We respond faster. Whether it's our short waiting lists, same day reporting or simple referral process, you can rest assured that your client is in the best hands."
We have listened to our clients and they don't have the time to micro-manage their portfolio. They want to partner with someone that is reliable and dependable with transparent pricing structures.
Adam Gilroy Smith, CEO reveals, "Empower has grown by 100% over the past year based on our service model across Home Care, NDIS and Residential Aged Care. By listening to our clients and the challenges they face, we adapt, stay well positioned and respond fast to deliver exceptional care. The launch of our new service model is another example of Empower Healthcare's ability to be agile in a rapidly changing environment."
How To Get Clients Started With Our Services
Simply click on the image below for our referral form.