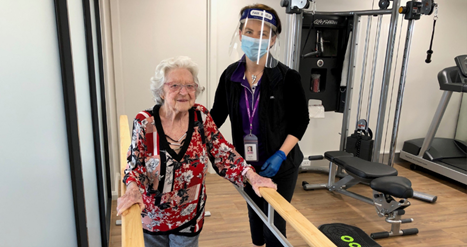 Meet Norma, an 89 year old resident who has lived at Mayflower for many years. In February 2020, Norma fell and sustained a fractured pelvis. Prior to the fall, she could walk with a 4 wheel walker (4WW) and one person to assist, yet on return to the facility from hospital, Norma was unable to move about or complete her normal activities of daily living.
Empower Healthcare's physiotherapists Narelle and Riad immediately began therapy, four times a week, to manage the 'constant and debilitating' pain as well as bed and chair exercises with the aim to increase strength and maintain movement.
Norma's functional goals were to walk around the facility again with Norma declaring, "Walking and mobility gives me freedom." She wanted to be able to walk independently to the toilet and shower or make her way to the loungeroom to play bingo with the residents and lifestyle staff. Together, we set a goal to achieve her pre-fall level of mobility of 50 metres using a 4WW and one person to assist.
Norma's rehabilitation was progressive and thorough in addressing all facets of walking. Narelle and Riad worked with Norma to practice her transfers (getting out of bed, sit to stand) many times. This gave Norma the confidence to slowly get moving again and helped her to regain strength. Once Norma was able to confidently stand, the team had her marching on the spot and then progress to taking a few steps. Gait retraining along with strength and conditioning saw Norma successfully progress over the following weeks and months to walking more than 100 metres!
Norma is now able to do transfers and walk with her 4WW and assistance of 1 person approximately 100 metres. Self-motivation was the key factor to her success with Norma revealing, "I thought the harder I tried, the better off I would be. I didn't want to be stuck in a bed or a chair, so I kept doing the rehab."
We are pleased to see her mobility and endurance have improved well beyond her pre-fall level. The physiotherapy team continue to work with Norma on a weekly basis. Being able to spend quality time with residents and supporting them to live their life the way they want to, is very rewarding and reinforces that we are changing a person's life for the better.
About Empower
We Change Lives
Empower Healthcare is a national allied-health service provider and partner with Home Care package providers, NDIS plan managers & Aged Care organisations to deliver life changing allied health services. We offer a full-service platform from physiotherapy, occupational therapy, podiatry, dietetics to osteopathy, massage therapy and most recently, home nursing services and pride ourselves in the delivery of high-quality therapy solutions, value packed services and responsive ethos.
It is a very exciting time with Empower Healthcare building on the success of its Victorian operation and now expanding nationally into NSW & WA. With a growing team of 100+ clinicians, we provide over 1,500 treatments every day and service more than 100 healthcare organisations. Building on this strong foundation, we are well positioned and committed to delivering exceptional care.
Our therapists genuinely care about the people we work with and take the time to build strong relationships that holistically improve social, physical and mental wellbeing to live happier and healthier lives.
How To Get Clients Started With Our Home Care & NDIS Services
Simply click on the image below for our referral form.