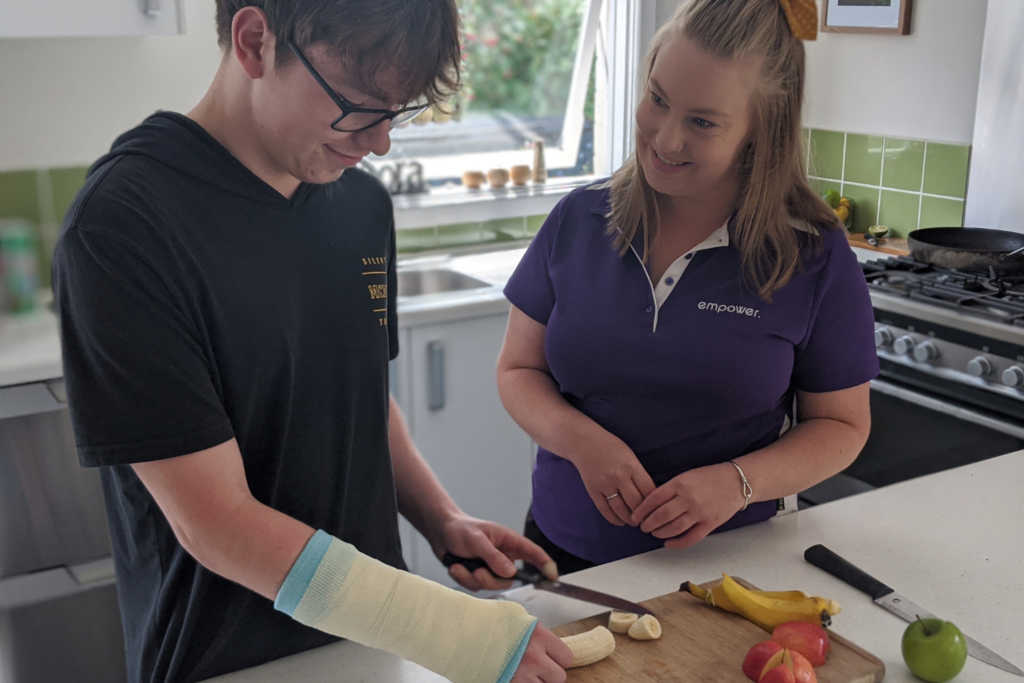 Kinnon is a typical 16 year old teenager living with his parents and younger sister. While he does enjoy going to school. Kinnon would rather spend his time hanging out with friends, playing videogames, going to the movies or visiting local shopping centres.
Kinnon has a history of Cerebral palsy and has had numerous surgeries to his lower limbs to replace bones, reposition joints including stretching and extending his muscles and tendons. Additionally, he has a moderate vision impairment, dyslexia and a cognitive delay.
He has been working with Emily McCleod, an Occupational Therapist on his goal to continue increasing his independence in activities of everyday living, such as personal care, domestic tasks, and community access. Most recently he has been working on using a knife, tying his shoelaces, and cutting his fingernails.
With support and guidance from Emily, Kinnon has transitioned from using a knife on playdough to cutting fruit, placing spreads on toast and helping with family meal preparation.
Kinnon's family have seen his independence grow and his self-confidence skyrocket, so much so, that he now feels ready to get a part-time job!  We are pleased to see that his resilience and persistence has translated to building new life skills.
At Empower, we believe in providing unique, innovative and person-centred care that matches their goals, strengths, interests and communication preferences to empower each client to achieve their health goals for themselves.
Our Service Guarantee
"Our promise: We respond faster. Whether it's our short waiting lists, same day reporting or simple referral process, you can rest assured that your client is in the best hands."
We have listened to our clients and they don't have the time to micro-manage their portfolio. They want to partner with someone that is reliable and dependable with transparent pricing structures.
Adam Gilroy Smith, CEO reveals, "Empower has grown by 100% over the past year based on our service model across Home Care, NDIS and Residential Aged Care. By listening to our clients and the challenges they face, we adapt, stay well positioned and respond fast to deliver exceptional care. The launch of our new service model is another example of Empower Healthcare's ability to be agile in a rapidly changing environment."
How To Get Clients Started With Our Home Care & NDIS Services
Simply click on the image below for our referral form.