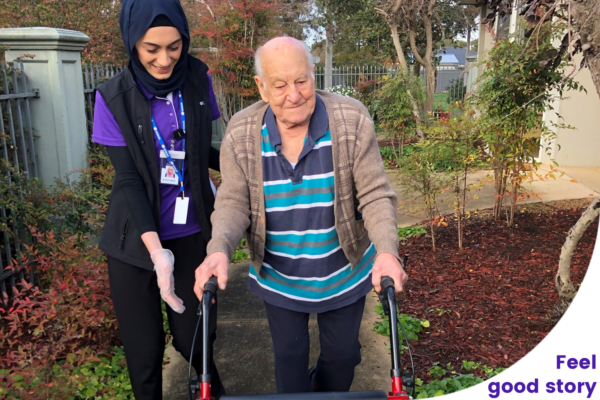 Meet John, a 91-year-old stroke survivor who lives at Moran Roxburgh Park.  Empower Healthcare's Physio & Osteo team have been working with John to regain his mobility and independence.
The stroke affected his right arm and leg movements, severely impacting his ability to walk and perform his normal activities of daily living. He was dependent on a mobile active lift to transfer him from bed to chair and required a wheelchair for mobility. John was feeling incredibly frustrated "As he had to rely on others all the time."
His biggest functional goal "was to be able to walk again." John enjoys going to the dining room as it is the place where lifestyle staff run activities like bingo, arts and crafts and trivia. It was very important for him to be able to socialise and take part in these activities.
Together, the agreed goal was set to walk approximately 30 meters…the distance from his room to the dining room. After 2 months of hard work, John has achieved his goal and can now walk from his room to the dining room using his walking frame and rest assured is now attending all daily activities!
John was self-determined from the start and his commitment to his therapy sessions has greatly contributed to his success. We are pleased to see John's mobility continue to improve on a weekly basis.
Being able to spend quality time with residents and supporting them to live their life the way they want to, is very rewarding and reinforces that we are changing a person's life for the better.
Our Service Guarantee
"Our promise: We respond faster. Whether it's our short waiting lists, same day reporting or simple referral process, you can rest assured that your client is in the best hands."
We have listened to our clients and they don't have the time to micro-manage their portfolio. They want to partner with someone that is reliable and dependable with transparent pricing structures.
Adam Gilroy Smith, CEO reveals, "Empower has grown by 100% over the past year based on our service model across Home Care, NDIS and Residential Aged Care. By listening to our clients and the challenges they face, we adapt, stay well positioned and respond fast to deliver exceptional care. The launch of our new service model is another example of Empower Healthcare's ability to be agile in a rapidly changing environment."
How To Get Clients Started With Our Home Care & NDIS Services
Simply click on the image below for our referral form.