We are delighted to welcome Mike McDermett as our NDIS Relationship Manager. He joins the Empower family to expand our NDIS services footprint and strengthen our relationships with NDIS focused organisations and participants.
Tell us a bit about yourself
I have spent the past 10 years working across the disability sector in Victoria in a variety of roles including Community Engagement and Service Innovation. I have been involved in the NDIS since its earliest days in Barwon. Prior to this I worked in online travel and as a teacher.
What do you love most about your role?
The opportunity to make a difference by creating relationships which will increase the number of Empower staff changing lives for people with a disability.
In your new position at Empower, what will you be looking to achieve in 2020?
Building strong relationships with NDIS focused organisations and participants. I also aim to provide help and support for all Empower staff regarding the NDIS.
Your thoughts around allied health services for an NDIS future
Allied health under the old system was difficult and costly to access. The NDIS has opened the opportunity for people with a disability to use allied health in innovative ways to create independence and they have the right to choose who they work with. Previous underutilised services like Occupational Therapy and Podiatry are now popular with the NDIS, giving people with a disability access to funding. Allied health is also now available for ages 10 to 18 and older adults that under the previous system had very little.
What attracted you to Empower?
I was attracted to the opportunity of working with allied health staff who I have always found professional and passionate to work with in previous positions. I also enjoy the process of building positive relationships with external organisations. Empower Healthcare provides a fresh approach to allied health in its support of staff and this is a key reason why I was attracted to this position.
Out of the workplace, what are your interests and hobbies?
I am father to two young people who keep me busy. I like to trail run and am attempting to re-learn the clarinet after a break of 30 years.
What's a fun fact about you many people may not know?
I collect first edition Ghost Books from the era that is considered the "golden age" of ghost stories 1900 -1930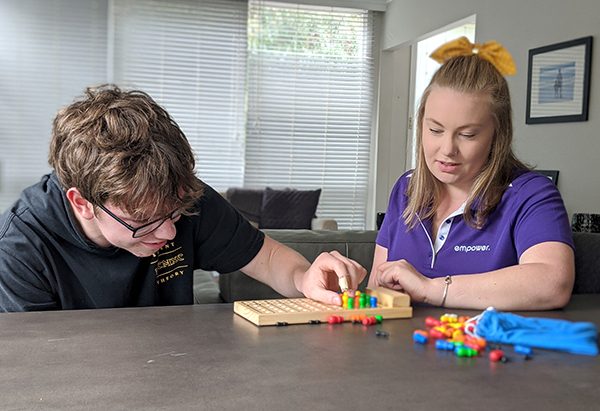 Let Us Help You with All Your NDIS Needs
As a registered NDIS provider with experience in the assessment & treatment of a variety of conditions and strong partnerships with leading equipment and home modification providers, we can facilitate all your allied health needs provisioned under the NDIS.
We assist NDIS participants from 10 – 64 years of age.
Our convenient, NDIS services range from provide clients with high quality occupational therapy, physiotherapy, podiatry, and dietetics, and in the comfort of their own environment.
These services also include timely and effective communication to support the administration of your clients' funds.
We want your client's to experience the best allied health services, and stay independent, happy, healthy in their own home.
We Understand Your NDIS Needs and Deliver
Rapid Response – that's our service guarantee
We acknowledge all NDIS referrals within 4 hours.
Appointments are booked within 48 hours.
Prompt Treatment
Initial appointments completed within 14 days of referral.
Continuity of Care
The same clinician will be assigned to all appointments for a consumer.
Timely Reporting
We update Case Managers on the same day or within 24 hours of initial appointment.
Cost Effective Services
There are no hidden fees.
Our pricing includes travel, treatment and documentation time.
Professional and Friendly Team
We take the time to get to know every consumer, allowing us to create meaningful care plans to support their life goals.
We are experts in co-ordinating services provided through the NDIS and scheduling private consultations.
Our NDIS Service Regions
Victoria
Greater Metropolitan Melbourne and surrounds
Mornington Peninsula
Geelong & the Bellarine Peninsula
Western Australia
Greater Metropolitan Perth and surrounds
Learn more on our NDIS Services
How To Arrange NDIS Services With Empower

Our friendly support team to get started on (03) 9583 1364