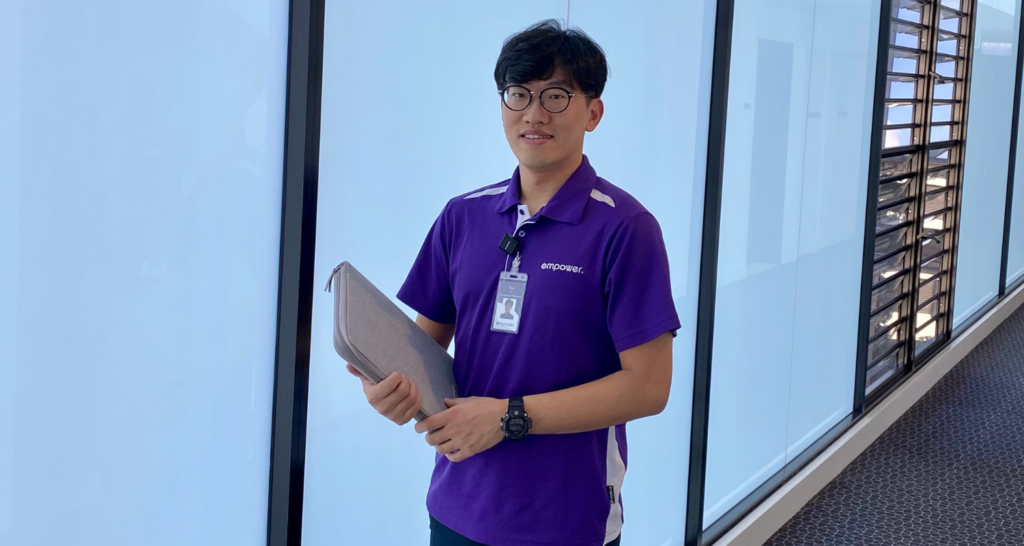 As a leading provider of allied health services, Tom Cui joins the NSW team as an Occupational Therapist. He joins our brilliant national OT team that are passionate in solving our client's problems, making a real difference to their lives.
Tell us a bit about yourself
I came to Australia from China for study in 2012. I finished a two year program in the University of Sydney and got a degree in Master of Occupational Therapy. I have been practicing as an Occupational Therapist in a wide variety of settings since 2015, for instance, occupational rehabilitation, community practice, private hospital and aged care facility. I am experienced in ADL assessments, equipment prescription, home modifications, falls prevention and pressure care prevention.
What do you love most about your role?
As a Home Care Occupational Therapist, I enjoy travelling on the road and meeting different clients every day. I like the flexibility at work and look forward to empowering clients so they can cope at home safely and independently.
What has been your most memorable moment?
Within the first few weeks of working at Empower, I had an invaluable team experience that cemented my assurance in choosing the right employment organisation. I had an urgent Specialist Disability Accommodation (SDA) referral and with collaboration from the OT Manager and Case Manager, was able to conduct and submit a comprehensive assessment report within a very short turn-around time that successfully achieved the goal of facilitating approval for appropriate accommodation and services within a limited time frame.
As an Occupational Therapist in NSW, what will you be looking to achieve in 2020?
It has been an exciting time and I'm so grateful in having the opportunity and experience to expand Empower Healthcare's allied health services into New South Wales. It's fascinating observing a business grow organically from scratch and I have been thankful in transferring my previous experience and knowledge to deliver individualised, innovative and high quality health care as per my fellow work colleagues around Australia.
What piece of advice would you give your new graduate self?
As an international student, I used to worry if I would be able to find a job and survive in this field. Apparently, I have proven that I worried a little bit too much! Therefore, I would like to leave a piece of advice to the new graduate self "No worries, you are better than you thought – chase your dreams."
What makes Empower different to previous places of employment?
Empower is like a big family to me. I feel I am well supported in the team.
Out of the workplace, what are your interests and hobbies?
I am a very active person. I like all sorts of sports, such as cycling, soccer, basketball and snooker.
What's a fun fact about you that most people don't know?
I am a big fan of heavy metal. I feel sorry to my neighbours when I play guitar at home…
Our Service Guarantee
"Our promise: We respond faster. Whether it's our short waiting lists, same day reporting or simple referral process, you can rest assured that your client is in the best hands."
We have listened to our clients and they don't have the time to micro-manage their portfolio. They want to partner with someone that is reliable and dependable with transparent pricing structures.
Adam Gilroy Smith, CEO reveals, "Empower has grown by 100% over the past year based on our service model across Home Care, NDIS and Residential Aged Care. By listening to our clients and the challenges they face, we adapt, stay well positioned and respond fast to deliver exceptional care. The launch of our new service model is another example of Empower Healthcare's ability to be agile in a rapidly changing environment."
How To Get Clients Started With Our Services
Simply click on the image below for our referral form.