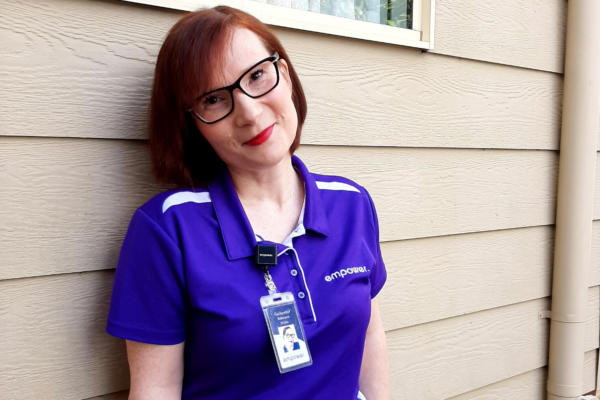 We welcome Catherine Robinson to our Home Nursing team. Catherine brings to the team over 17 years' experience as a Registered Nurse and 15 years' as a District Nurse. She has a deep understanding of and commitment to the Australian healthcare sector and also has a demonstrated ability to connect with her consumers and deliver high-quality home care.
Catherine began her career as a community care assistant in 1996 and with community care running through her veins, commenced her nursing degree in 1999 to become a District Nurse. After 2 years consolidating her learning as an RN in the acute sector, Catherine's district nursing dream came true in 2005 and accepted her first role as a District nurse at The Royal District Nursing Service.
Catherine believes "Caring for people within their own home is an honour and privilege. After so many years, I still have a passion for listening to a client's story and seeking a way to fit into their narrative in a meaningful and assistive way.
Whether it is to augment a support that is already working for a client, or assessing/reassessing their care, I am here to work with the client and the important people in their lives with a respectful, collaborative and gentle approach. I aim to be mindful while listening. My role is to support and understand, to promote client independence, wellness and the clients own goals."
Catherine has a a Certificate II in continence promotion and management. Her nursing skills include:
Catheter care
Stoma care
Wound care
Palliative care
Diabetes management
Medication management
Experience in nursing clients with complex needs.
Empower's Home Nursing Service Solutions
We offer a wide range of home nursing services from; Medication Management, Wound Management & Skin Integrity, Diabetes Management, Continence Management, After Hospital Nursing Care, Clinical Assessments and Mobility Assessments and Recommendations.
Access our national office qualified nurse support member to answer enquiries on short and long-term care needs of your respective clients and any queries you may have surrounding transition.
And have peace of mind knowing we have carefully selected our nursing team to ensure they maintain our exceptional care service standards and have been screened and police checked to provide your clients with the highest nursing competence and safe care.
Home Nursing Information pack
Our information pack extensively covers our home nursing service capabilities.  Download a copy to confirm that we can meet your clients' needs.

Click here to learn more about our Home Care Nursing Services & download the information pack.
Click here to learn more about our NDIS Nursing Page & download the information pack.
Pricing
Please call us on 03  9583 1364 and speak to our Home Care Support Team or our national office qualified nurse for our pricing.
Referrals
Want to get started? Click on the image below for our online referral form.