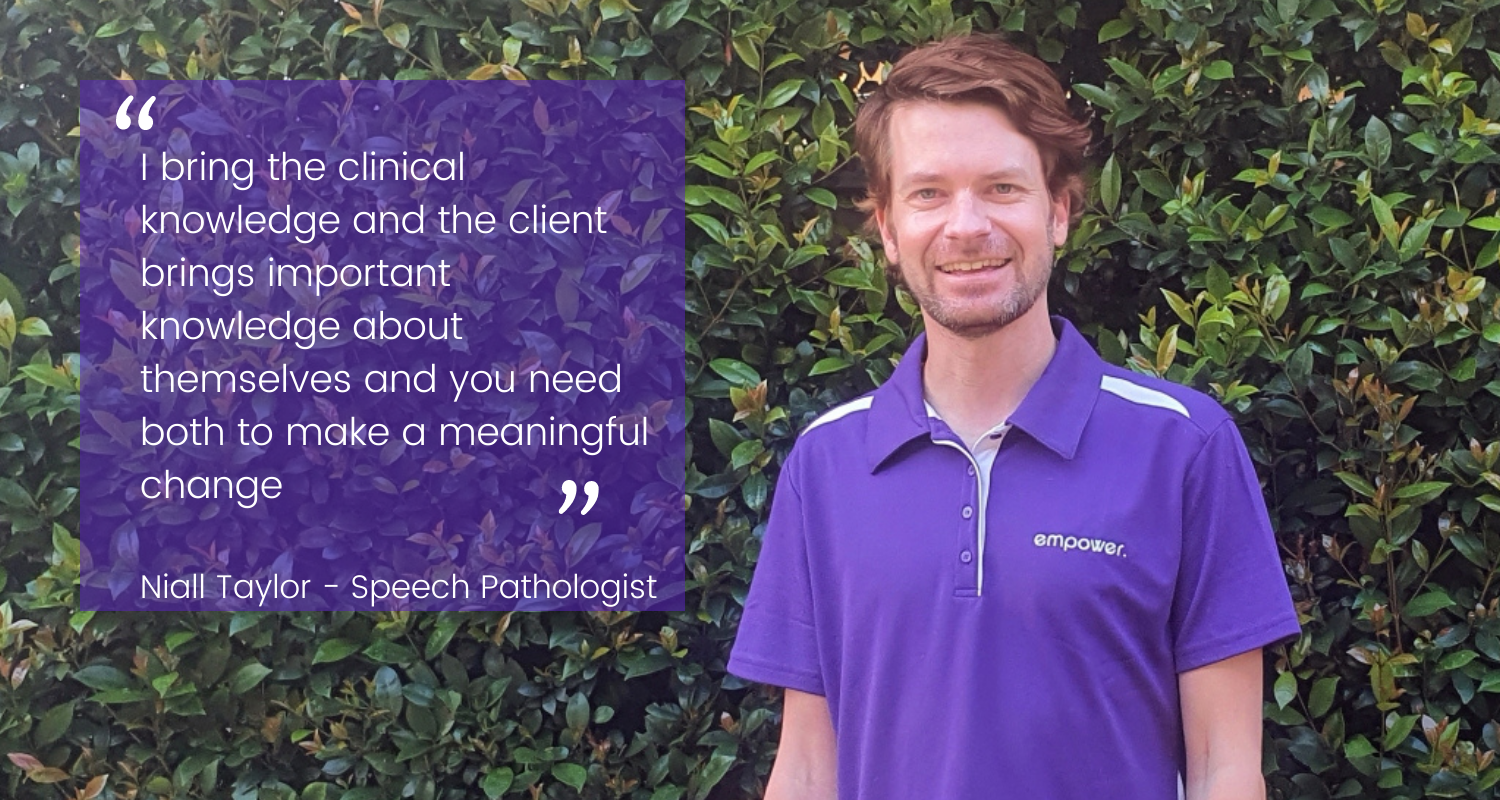 Niall brings broad experience to Empowers Speech Pathology team
Having worked in diverse rural and urban settings, Niall has developed skills in individual and group therapy practices across all life stages. His additional training at Royal Perth Hospital in tracheostomy management, and ongoing involvement in swallowing research has developed his expertise in swallowing and voice therapy.
Niall's speech pathology experience expands across in home care, residential aged care, rehabilitation and private practice. With interests in swallowing, language and disability, Niall brings depth of experience to Empower Healthcare along with a passion for his work and clients.
Niall states,
As a person with disability, my life always involves disability. I try to keep up to date with disability rights, the NDIS, and advocate where I can. I see working in the community as a partnership between the clinician and client. While I bring the clinical knowledge, the client brings important knowledge about themselves, and you need both to make meaningful change. Working with the client is something I really enjoy about community practice as it's at the centre of everything we do.
In his free time, Niall enjoys being with his family and friends but also likes his own company, spending time in his garden and gaming. Niall sometimes incorporates gaming into his therapy sessions as a therapy tool for social skills and executive functioning.
His appointment marks our commitment to growing and developing our services across Australia as we continue to deliver high quality healthcare solutions.
Speech Pathology Services
Our Speech Pathology team provide assessment, diagnosis, intervention, and management in the areas of communication and swallowing.
We work with people who have;
difficulty communicating due to developmental delays
stroke
brain injuries
learning disability
intellectual disability
cerebral palsy
dementia
hearing loss
other areas that can affect speech and language
Visit our Speech Pathology Services page for further information
About Empower Healthcare
We Change Lives
Changing lives is what we do.  Delivering high quality allied health services is how we do it.
Empower Healthcare was founded in 2016 by two people who were determined to improve the standards of allied health services in residential aged care. With industry knowledge and an innovative approach, Adam and Matthew set about defining what allied health services can be when quality and person-centred care is placed before all else in healthcare.
The partnership, that merged clinical expertise with business acumen, soon established Empower Healthcare as a leading provider of quality physiotherapy services in residential aged care facilities in Victoria. This success fueled the expansion of our services within residential aged care, home care and NDIS to deliver occupational therapy, physiotherapy, nursing, podiatry, dietetics, osteopathy, massage and speech pathology.
Now offering comprehensive allied health services with more than 180 dedicated and passionate clinicians working in Victoria, Western Australia, New South Wales and Queensland. Empower Healthcare is growing and taking our unique approach with us.
A lot has changed over the years but not our commitment to the highest quality care, delivered by expert clinicians, aimed at improving the independence and quality of life of our clients. Helping our clients live their lives the way they want to.
How To Get Clients Started With Our Home Care & NDIS Services
Simply click on the image below for our referral form.