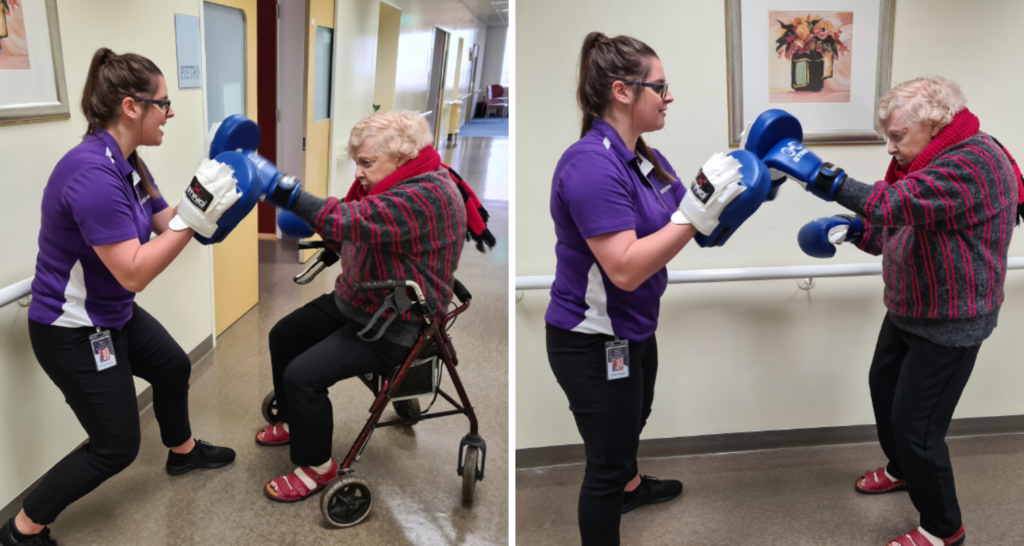 For Coral, living with chronic health conditions had taken a toll. Suffering from pain and reduced mobility, she struggled to stand up from a chair without help and moving around had become very challenging. Coral loves to attend book club and spend time with her friends and her reduced physical abilities were making participation difficult.
At Empower, our therapists know that movement is a powerful tool in reducing pain, increasing mobility, allowing independence and improving mood. We understand that effective exercise therapy needs to be customised to the needs, abilities and interests of individuals. Developing effective exercise therapy interventions relies on an understanding of the human body but as important is the need for trust, communication and responsiveness to the clients' specific needs and preferences.
Setting realistic and attainable goals that matter to Coral was vital in keeping her motivated. She wanted to be able to move around the facility she lives in with more independence and improve her strength. She noticed that exercise also helps her to manage her mood and reduces her pain. The journey to improved mobility is often a difficult one that requires innovative interventions and sometimes the answers lie in the unexpected. This was the case for Coral, who discovered a previously unknown passion for boxing! With the help of her dedicated therapists and weekly therapy sessions, Coral has managed to attain many of the goals that she has set for herself.
At Empower, we strive to improve the quality of life of the people we work with. For Coral that has come in the form individualised, needs based exercise therapy and the results speak for themselves. Nowadays, she can manage her pain and low mood through exercise, and she is able to participate in the group activities that she so enjoys, moving more freely and independently. She continues to set new goals for herself and achieving them brings her great satisfaction. Coral's therapists continue to empower her by providing the tools and encouragement she needs to maintain her highest possible level of function and wellbeing.
Our Service Guarantee
"Our promise: We respond faster. Whether it's our short waiting lists, same day reporting or simple referral process, you can rest assured that your client is in the best hands."
We have listened to our clients and they don't have the time to micro-manage their portfolio. They want to partner with someone that is reliable and dependable with transparent pricing structures.
Adam Gilroy Smith, CEO reveals, "Empower has grown by 100% over the past year based on our service model across Home Care, NDIS and Residential Aged Care. By listening to our clients and the challenges they face, we adapt, stay well positioned and respond fast to deliver exceptional care. The launch of our new service model is another example of Empower Healthcare's ability to be agile in a rapidly changing environment."
How To Get Clients Started With Our Home Care & NDIS Services
Simply click on the image below for our referral form.